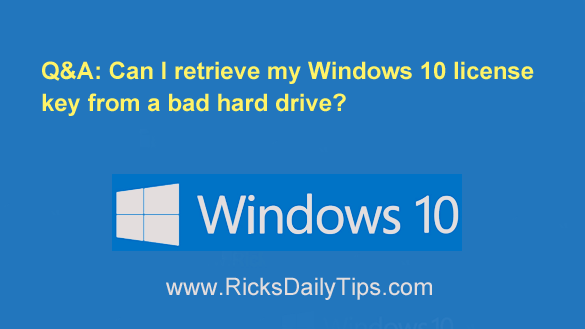 Question from Keith:  I upgraded my Windows 7 computer to Windows 10 shortly after it was released, and like a dummy I didn't write down the license key for it.
The hard drive in this machine went bad and I replaced it with a 1TB SSD. The bad drive appears to be completely dead because it doesn't make any noise at all.
After I installed the SSD I downloaded the Windows 10 files and put them on a thumb drive with the instructions they provided.
The thing is, I know I'll need the license key to activate Windows 10 after I install it, but I don't have it.
I read that you can sometimes retrieve files from a dead hard drive.
Is there any way to retrieve the Windows license key from a hard drive when Windows won't even recognize the drive when its plugged into a different computer?
Rick's answer:  Keith, if the drive is truly "dead" (i.e. the platters won't even spin up) you would have to send it off to a data recovery company and pay them to retrieve any files you want to recover for you. There's just no way for a typical end user to recover the files from a completely dead hard drive.
Unfortunately, data recovery companies typically charge several hundred dollars to retrieve the files from a hard drive that's in this condition.
However, if you don't need to recover any of your actual files you won't need to do anything further with the bad drive just to reinstall Windows 10 on your PC.
Luckily, Windows 10 handles the Windows activation process much differently than Windows 7 and earlier versions.
When you install Windows 10 on a PC (or on a tablet for that matter) that Windows installation is assigned a license that's digitally tied to that specific device.
As long as it's the same version of Windows 10 (Home, Pro, etc.) you'll be able to download the Windows ISO file from Microsoft (which you have already done) and reinstall it on that same machine as many times as you want without ever having to enter a license key.
As you can see, Windows 10 provides for a much easier and smoother re-installation and activation procedure than Windows 7.
In a nutshell, all you have to do is use the Windows 10 installation media you have already created to reinstall Windows from scratch on your computer's new SSD and the new Windows installation will be activated automatically.
Bonus tip: Situations like this are one of the reasons why I recommend that you always have a recent System Image Backup on hand.
Luckily, System Image Backups are very easy to create, and they are completely free! Read this post for step-by-step instructions for creating them.
---
If you found this post useful, would you mind helping me out by sharing it?
Just click one of the handy social media sharing buttons below. Thanks a bunch!