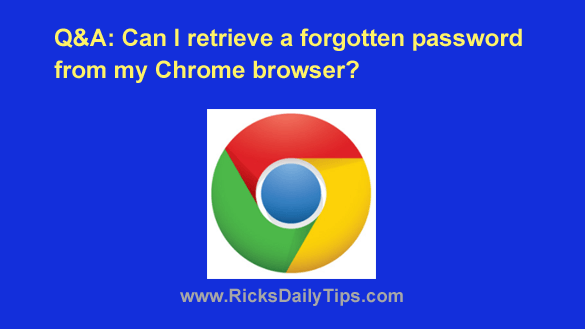 Question from Helen:  I have an account with a popular online business forum and I've forgotten my password.
I can still log in because Chrome has stored the password, but I'm afraid something will happen and the password will disappear on me.
Even though the password is saved I can't read it because all it shows is a bunch of asterisks.
I tried resetting the password by clicking the "Forgot Password?" link, but it isn't working.
Is there any way to retrieve my current password from Chrome or am I just out of luck? 
Rick's answer:  Helen, I recommend that you first try to reset the password from inside the account after you sign in with the stored password.
It's virtually a sure bet that whatever service you're using has an option somewhere in the Settings menus to change your password.
If that fails however, you might indeed be able to retrieve your current password from Chrome as you mentioned in your question. Try the steps below that match the device you're using.
If you're using Chrome in a web browser on a laptop or desktop computer:
1 – Launch your Chrome browser.
2 – Type (or copy and paste) the following into Chrome's address bar:
chrome://settings/passwords
3 – Press the Enter key. You should now see a list of your stored passwords (obscured by a row of dots).
4 – Find the hidden password for the site you want to retrieve the password for and click the "eye" icon. The plain text password should appear.
Note: You might be prompted to enter the password or PIN to your Windows account in order to view the hidden passwords.
If you're using the Chrome app on a mobile device:
1 – Open the Chrome app and sign into your account.
2 – Tap the three dots in the corner of the screen.
3 -Tap Settings.
4 – Tap Passwords.
5 – Tap the website you want to retrieve the password for and then tap the "eye" icon. The plain text password should appear.
That's all there is to it. You should now have your forgotten password, ready to use to log in to your account.
I hope this helps, Helen. Good luck!
Update from Helen:  That was such a big help, Rick. Thanks so much!
Bonus tip: This exercise proves just how easy it is to retrieve a stored password in Google Chrome. This is one of the reasons why I strongly recommend against letting your browser store your passwords.
---