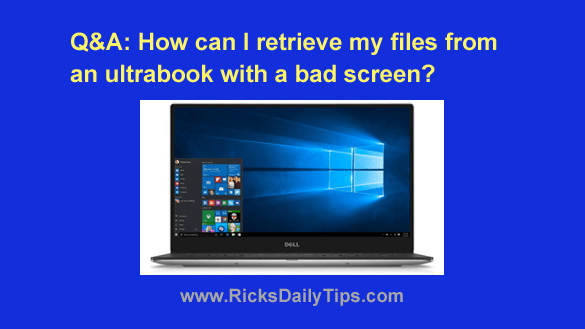 Question from Shruti:  Hi, Rick. I have a Dell XPS 13 9370 Ultrabook. Everything was fine until this morning when my screen just turned grey-ish black.
I had dropped my laptop and slightly cracked the top right edge of the screen along with one of the hinges a few months back but everything seemed to still be working fine.
I don't know why this suddenly happened.
I have important data on this machine so I'd like to know if there is any way to retrieve the data without fixing the screen? 
Since this laptop is a recent model and an ultrabook, it doesn't have a hard drive. It has an SSD so I don't know if I can remove it and then put it through an adapter or something.
Please help me, I am in desperate need of help as I might have to pay a fortune to fix the screen! I might as well buy a new laptop. But I really need to get the data from my old one.
Thanks a lot in advance.
Rick's answer:  Hi Shruti. I'm sorry to hear about the damaged screen on your Dell XPS 13 9370 Utrabook. That's a real shame because it's an absolutely fantastic laptop!
I do believe you might be in luck, however.
It sounds like everything on your laptop is still working except for the screen. If so, just plug an external monitor into the laptop and you should be able to operate the laptop as you always have.
You'll then be able to either keep using the laptop as a desktop computer (which would be my recommendation) or attach an external USB hard drive and copy your files onto it.
If you don't own an external HDMI monitor and you'd rather not buy one, you can simply borrow one from a friend and use it to retrieve your files from the SSD.
Your Dell XPS Ultrabook doesn't have an HDMI, DVI or VGA port, but you can easily connect an external monitor to it with a USB-C to HDMI adapter (#ad) . These adapters are quite inexpensive and they work very well.
By the way, if the need ever arises you can indeed plug your laptop's SSD into an external USB enclosure and attach it to another computer as an external drive.
Just be aware that your ultrabook doesn't have a traditional 2.5″ SSD. Instead, it has an M.2 Type 2280 SSD that's actually a small circuit board that's attached to your ultrabook's M.2 connector.
M.2 type SSDs are superior to standard 2.5 inch SATA SSDs in several ways, but you can't install them in a standard 2.5″ external USB enclosure.
If you end up going this route you'll need to purchase an M.2 USB external enclosure instead. Just let me know if you need help picking one out.
I hope this helps, Shruti. Please let me know how it works out for you. Good luck!
Bonus tip: The situation described above is a great example of why it's important to always have a recent backup of your computer's hard drive/SSD on hand. This post explains how to create them.
---