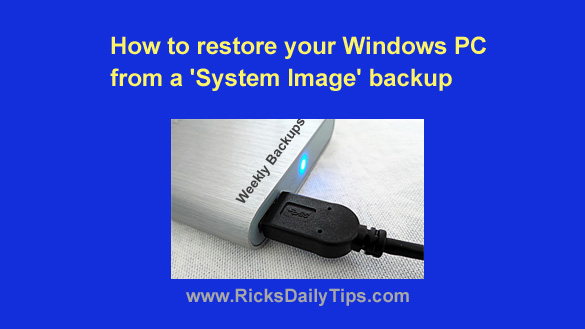 Many of the tips I've written explain the importance of creating regular System Image backups in case your PC's hard drive ever fails or some other catastrophe wipes out your Windows installation.
It really is important to always have a recent backup on hand for those unexpected emergency situations, but one of my blog's faithful readers recently pointed out that I have never explained how to restore a PC from a System Image backup.
The purpose of this post is to correct that oversight.
The procedure for restoring from a System Image is pretty much the same for both Windows 8.1 and Windows 10.
Simply ensure that you have either a System Repair Disc or a USB Recovery Drive along with a recent System Image backup at the ready, then follow the steps below: 
1 – Connect the external hard drive that contains your System Image backup to your PC.
2 – Insert either the System Repair Disc or the USB Recovery Drive and then turn on the machine by pressing the power button.
3 – Change your PC's BIOS/UEFI settings to force the system to boot from the drive containing either the System Repair Disc or the USB Recovery Drive.
4 – If prompted to do so, press any key on the keyboard to boot from the CD/DVD drive or USB drive.
5 – When prompted, select the appropriate keyboard layout.
6 – Once the "Choose an option" screen appears, select Troublshoot.
7 – Select Advanced options.
8 – Select System Image Recovery.
9 – If prompted to do so, select a user account with Administrator privileges, then enter the password for that account if required.
10 – Select the target operating system (there will likely only be one operating system listed). The "Re-image your computer" dialog box should appear.
11 – To restore from the most recent System Image backup that's available, simply click the Next button. To restore from an earlier backup, click Select a system image and then click Next.
12 – In most cases you can simply ignore the "Format and repartition disks" and "Install drivers" options and simply click the Next button.
13 – Click the Finish button to initiate the restore procedure.
14 – You'll now receive a warning that restoring the files from the System Image backup will overwrite any data that currently resides on the hard drive to be restored. Click Yes to continue.
Windows will now begin restoring all the files from the backup image. Depending on the amount of data to restore, this procedure could take a fairly long time, possibly even several hours.
Well, that's all there is to restoring a Windows 8.1 or Windows 10 PC from a System Image backup.
The procedure for restoring a Windows 7 backup image are very similar. Simply connect the backup drive to the PC, start the computer from the System Repair Disc, then follow the prompts as required.
Bonus tip #1: This post explains how to completely rid your Windows computer of viruses and other forms of malware.
Bonus tip #2: Want to make sure you never miss one of my tips? It's easy! Just…
Click here to sign up for my free Rick's Daily Tips Email Newsletter!
---
Would you like to ask Rick a tech question? If so, click here and send it in!
If you found this post useful, would you mind helping me out by sharing it? Just click one of the handy social media sharing buttons below. Thanks a bunch!