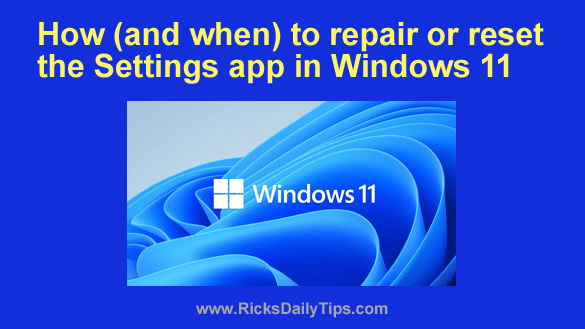 The Settings app is home to many of the settings you can change to tweak Windows 11 and make it work better for you.
But just like any other app, the Settings app can occasionally go sideways and stop working as it should. And in extreme cases it can stop working at all.
There are a number of things you can try in order to fix the Settings app if it starts acting up on you, but I always start with first trying to repair the app. 
If that doesn't work I try resetting it.
It's always best to try the repair first because the repair procedure doesn't reset any of the app's data.
But if the repair procedure fails to fix the problem, you can go ahead and try a reset. Just be aware that resetting the app will also reset it's data.
Luckily, either a reset or a repair will take care of the problem, in most cases.
This short video shows how to repair and (if necessary) reset the Settings app in Windows 11, step-by-step:
Note: You can watch this video at full screen by clicking the little "square" icon in the lower-right corner of the video after it begins playing.
If you prefer following written instructions, here you go:
1 – Click the Start button and type the word Settings.
2 – In the right-hand pane, click App settings.
3 – Scroll down to the "Reset" section and click the Repair button.
Now check to see if the Settings app is working correctly. If it is, you're done.
If it isn't, repeat the steps above and click the Reset button in step 3.
That's all there is to it. If all went well your Settings app should now be working correctly again.
---