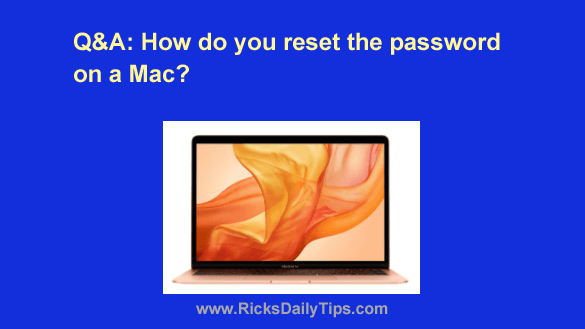 Question from Charlotte J.:  Rick, my family is dealing with some issues right now, and I'm hoping you can help me resolve one of them.
My daughter loaned her new Macbook Air to her cousin a few weeks ago. When she finally got it back from her she discovered that it now has a password on it.
I won't mention any details, but the cousin is upset with my daughter and she refuses to give her the password. Kids!!
I really need your help with resetting the password on my daughter's Macbook Air. Can you tell me what I need to do?
Rick's answer:  I'm sorry to hear that your family is having these problems Charlotte. I'll be happy to assist you with resetting the password on your daughter's laptop. Just follow these steps:
1 – With the computer turned off, press and hold the Command+R key combination.
2 – While continuing to hold the Command and R keys, press the power button.
3 – Release the the Command and R keys when the progress bar shows up beneath the Apple logo. The machine should now boot into Recovery Mode.
4 – Click the Utilities tab that's located on the top menu bar.
5 – Click Terminal.
6 – Type resetpassword, then press the Enter key.
7- Close the Terminal window to reveal the Reset Password Utility.
8 – Select the user account you wish to reset the password for. Since this is your daughter's computer there will most likely be only one user account listed.
9 – Now either enter a new password or simply leave it blank if your daughter would prefer to be able to boot the machine with no password at all.
10 – Click the "Apple" icon in the upper left-hand corner of the screen, then select Restart from the drop-down menu.
11 – Enter the new password when prompted (if you created one in step 9).
That's all there is to it, Charlotte. Your daughter's Macbook Air should now boot right up.
By the way, this just goes to show how having a password on a Mac won't necessarily protect the owner's personal and financial information from prying eyes.
That's why it's important to be judicious when deciding what types of information you plan to store on the machine. Just sayin'.
Bonus tip: This post explains how to use the Time Machine utility to back up all the information you have stored on your Mac.
---
Never miss a tip!  Click here to sign up for my free Daily Tech Tips Email Newsletter!