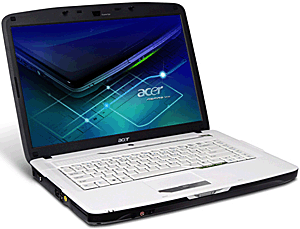 Question from Gillian S.:  My Acer Aspire 5715z laptop won't boot into Windows and my friend says I need to reset it back to the factory condition.
The problem is I don't have a restore disc for it. Is there any way to restore this computer without a restore disc?
Rick's answer:  Gillian, if the hard drive is working properly and the recovery partition isn't damaged, you should be able to easily restore your laptop back to its factory condition. Here's how: 
1 – With the laptop powered off, press the power button and watch for the Acer logo to appear on the screen.
2 – As soon as you see the Acer logo, press and release the left Alt key and the F10 key simultaneously. The eRecovery Management Utility should load.
3 – You'll see two options to choose from. I recommend trying the 2nd option first since it will restore Windows Vista while retaining the files in your user account folder. Bear in mind that you'll still need to re-install your programs and any user-created files that are not stored in your user account folder.
To begin the restore process, click Restore Operating System and Retain User Data.
4 – Follow the prompts on the screen as required.
5 – Once the restore process is complete, check to see if your laptop will now boot into Windows. If so, you're done. If not, repeat the steps above and choose the Restore Operating System to Factory Defaults option. If neither option works your only remaining option will be to order a set of Restore discs from Acer.
That's all there is to it Gillian. Good luck!
Update from Gillian:  Option #2 worked Rick. Thanks for your help!
---
Do you have a tech question of your own for Rick? Click here and send it in!