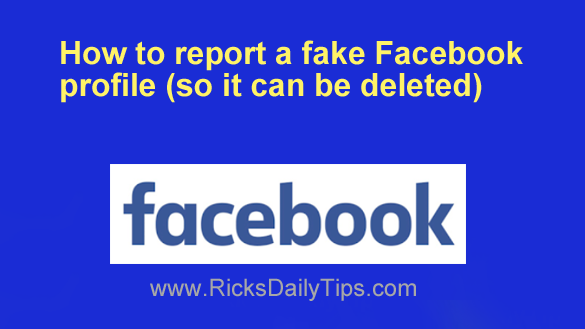 If you've been using Facebook for more than ten minutes you're probably aware that scammers are constantly cloning folks' profiles to create new fake accounts in their names.
They then send friend requests from the fake account to everyone that's on the real account's Friends List.
After several people have accepted the fraudulent friend requests the scammer will then use the fake account to target those "friends" with all manner of scams and hoaxes.
I'm sure you've seen your friends post something like "I've been hacked. Don't accept any new friend requests from me!"
Receiving a friend request from someone you're already friends with is a usually a huge red flag that your friend's account has been cloned. Note that I said cloned, not hacked.
The good news is a cloned account HAS NOT been hacked so it isn't necessary to change the cloned account's password.
But that being said, fake "clone" accounts are both annoying and dangerous. That's why it's important to report them to Facebook so they can take them down.
To their credit, Facebook usually removes fake accounts fairly quickly once their existence is brought to their attention by someone reporting them.
Luckily, it's very easy to report a fake profile so Facebook can remove it. Just follow the steps below.
Important: While fake clone accounts are common on Facebook, there will be times when one of your friends will create a new account that's actually legitimate. This usually happens after a hacker breaks into their account and changes the password, preventing them from logging back into the account.
It also happens when someone buys a new computer or mobile device and mistakenly believes they need a new Facebook account to use with the new device (which of course they don't).
Therefore, it's always a good idea to try to contact the person via their "old" account to ask them if the new friend request is legit before reporting the new account as fake.
Now that that's out of the way, here are the steps to follow to report a fake account so Facebook can take it down.
1 – Visit the fake account's Timeline and click the three dots over on the right.
2 – Click Find support or report profile.
3 – Click Fake Account.
4 – Click Submit.
That's all there is to it. After Facebook receives the report they'll check it out and (usually) delete the fake account fairly quickly.
---