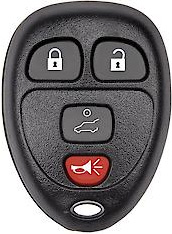 Question from Elizabeth D.:  Hi Rick. This isn't really a tech question but it does involve the Internet so I hope you can help me.
The little plastic loop that holds the keyless remote onto my key ring broke off and now I have to carry it in my purse. The remote still works just fine, but not having it on my key ring is driving me batty since finding ANYTHING in my purse in a hurry is virtually impossible!
The problem is the dealer wants $160 for a new keyless remote for a 2006 Malibu!
Do you know of a website where I might be able to find one for less money (hopefully a LOT less)? Thanks so much for your help!
Rick's answer:   Yes Elizabeth, there are places online where you can purchase replacement keyless remotes, and they are indeed less expensive than the ones sold by your dealer. But in your case you don't need a new remote, you need a new keyless remote CASE.
Replacement cases typically sell for around $15-$20. All you do is pop the remote apart as if you're going to replace the battery, then remove the innards and place them inside the new case. The procedure takes all of 60 seconds from start to finish.
I'm not even going to bother referring you to a website because the best place to buy a keyless remote case is your local auto parts store. Both Advance Auto and Autozone sell them and I'm guessing they'll even assist you with switching out the cases right on the spot!
Bonus tip #1: Although you don't really need to order a keyless remote online, there might still by times when you want to buy something from Amazon. If so, did you know you can now pay cash for your Amazon purchases?
Bonus tip #2: Want to make sure you never miss one of my tips? Click here to join my Rick's Tech Tips Facebook Group!
Update from Elizabeth:  Thanks a lot Rick! You're a lifesaver!
---
Want to ask Rick a tech question? Click here and send it in!
If you found this post useful, would you mind helping me out by sharing it? Just click one of the handy social media sharing buttons below.