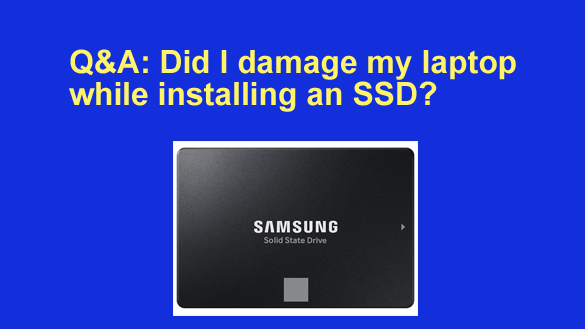 Note: The links in this post are affiliate links.
Question from Shane: I recently found your blog, and I love it. Great job!
I took your advice and replaced the hard drive in my laptop with an SSD to make it run faster.
Everything seems to be working ok and the speed increase is incredible, but I'm worried that I might have possibly damaged something while I was swapping out the drives. 
What happened was I forgot to disconnect the battery and completed the entire procedure with it still connected to the laptop.
Do you think there's a chance that I damaged something enough to make it stop working later even though it still seems to be working OK right now?
Rick's answer: Shane, that's a question that's impossible to answer with 100% certainty, but I believe your laptop will be just fine.
You didn't mention whether you had powered the machine down before swapping out the drives, but I'm sure you probably did since the lid would have almost certainly been closed.
If that's the case, it's highly unlikely that anything inside your laptop sustained any damage while you were working on its innards.
However, if the laptop was powered up when you removed the hard drive and installed the SSD in its place then there's always a chance that a momentary power spike could have caused a small amount of damage that could possibly manifest itself somewhere down the line.
But truth be told, I honestly believe the chance that that happened is rather remote.
Bottom line: While it's always good practice to disconnect a laptop's battery before removing or installing any internal components, I believe it's very unlikely that you damaged your laptop while swapping the drives out.
Update from Shane: Thanks a lot, Rick. That really puts my mind at ease because I did shut the laptop down before I started working on it.
---