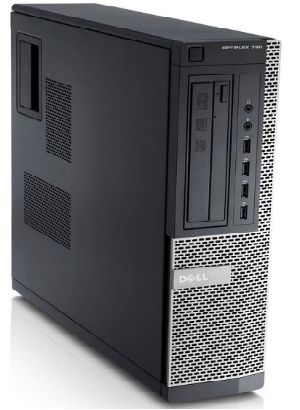 Question from Jeffrey D.:  I'm looking to replace four ancient Dell Windows Vista desktop PCs that we use to run the custom inventory software I use in my business.
That software runs just fine on these machines and I'm only replacing them because Windows Vista is no longer being supported by Microsoft.
I've tested the software on a Windows 10 PC and it runs fine so there are no worries about software compatibility.
I don't need anything fancy, or even new. What I'm hoping to do is to replace all 4 machines for less than $1,000 total.
I have already replaced the original 17 inch CRT monitors with 22 inch flat panel displays so I only need to replace the towers. The new computers won't need huge hard drives since the current ones have tiny 320GB drives with plenty of space left over.
Do you know of any dependable refurbed systems that'll run my software that are within my $1,000 budget (for all 4 PCs)?
Thanks in advance for your help!
Rick's answer:  Jeffrey, I think you're wise to consider replacing your trusty old Dells with some cheap refurbs, and I've found what appears to be the perfect system to replace them with.
In my opinion this Dell Optiplex 790 would make an excellent replacement for your older Dell machines. They're more than powerful enough to run your custom business software, and four of them easily fall within your $1,000 budget.
These Optiplex 790s come with the following hardware, plus Windows 10 already pre-installed:
Intel Quad Core i5-2400 3.1GHz CPU
8GB DDR3 RAM
2TB SATA 3 / 7200RPM Hard Drive
DVD-RW Optical Drive
Intel HD Graphics 2000
1 VGA port and 1 Display port
Gigabit (Wired) Networking Adapter
10 USB 2.0 ports (You can easily add USB 3.0 ports for the cost of a good pizza!)
90 Day Warranty
Bottom line: I believe this computer will make an excellent replacement for your old Dell systems. What's more, you can get them from Amazon for around $200 each at the time of this writing.
I hope this helps Jeffrey. Good luck!
Update from Jeffrey:  This machine looks like the perfect solution Rick. And with the free shipping I'll get them for a lot less than the $1,000 I had planned on spending. Thanks so much!
Bonus tip: Want to make sure you never miss one of my tips? Click here to join my Rick's Tech Tips Facebook Group!
Note: The links in this post are affiliate links. Any prices and/or availability mentioned in this post are subject to change at any time.
---
Want to ask Rick a tech question? Click here and send it in!
If you found this post useful, would you mind helping me out by sharing it? Just click one of the handy social media sharing buttons below.