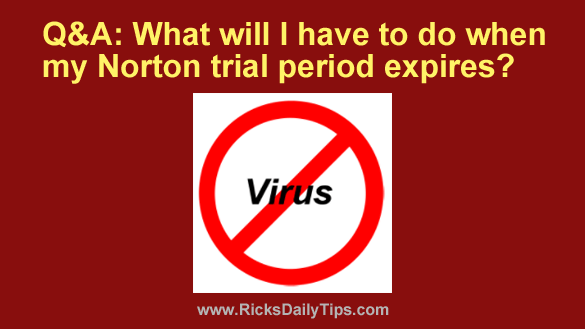 Question from Margo:  I bought a new laptop that included Norton for free for 6 months.
I've had the laptop for a while now and the 6 months will be up in a couple of weeks.
Will I be able to renew my current Norton software or will I have to buy and install a new copy? 
I'd rather just renew the copy I already have if I can.
Rick's answer:  Margo, the short answer to your questions is yes, you will be able to renew your Norton license when it expires if you want to.
You won't have to bother with buying and installing a new copy of the software. You can pay for the upgrade and get Norton activated online within just a few minutes.
But the above being said, I recommend that you simply uninstall Norton when it expires and install the free version of Malwarebytes instead.
I have personally used and recommended the Premium version of Malwarebytes in lieu of another antivirus app for a good while now, and I can tell you that it works extremely well.
But now that Microsoft's own Windows Security is so much better than it used to be, I'm now recommending that folks stick with Windows Security as their primary antivirus app and add the free version of Malwarebytes in order to get an occasional second opinion.
What I do is let Windows Security run 24/7 in the background, then once per week I run a manual scan with Malwarebytes.
This routine has worked quite well for me, and I believe it'll work well for you too.
Bottom line: If you'd really prefer sticking with Norton Antivirus, you can simply renew it online when prompted to do so after your trial subscription expires.
However, if I were you I would ditch Norton and install the free version of Malwarebytes instead.
Note: When you install the free version of Malwarebytes you're actually installing a 14 day free trial of Malwarebytes Premium.
At the end of the free trial period you won't have to do a thing. The trial version will revert to the free version automatically if you don't accept the offer to pay for the Premium version (and I recommend that you don't).
I hope this helps, Margo. Good luck!
---