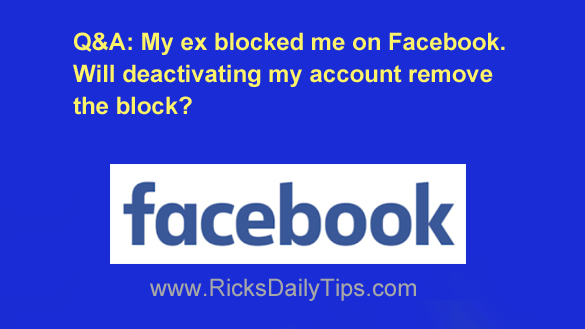 Click here to sign up for my free Rick's Tech Tips Newsletter!
---
Question from Freida:  My ex and I are in the middle of a nasty custody battle. We got into an argument on Facebook and he ended up blocking me.
If I deactivate my Facebook account and then reactivate it, will that remove the block so that I can see his posts again? 
He's always posting nasty things about me and I want to know what he's saying about me.
Rick's answer:  I'm sorry you're having to go through this, Freida. Custody battles are never easy.
To answer your question, just deactivating a Facebook account won't reverse the block someone has placed on it.
The only way to get a block removed is for the person who initiated the block to unblock it from their end.
You have four realistic options as far as I can tell:
1 – Try to talk your ex into unblocking your account (assuming you are still able to contact him by other means).
2 – Create a new Facebook account. Of course this might not work in the long run since your ex will probably block that account too as soon as he finds out about it.
3 – See if one of your mutual friends will allow you to use his/her account to check up on your ex's posts.
4 – Forget about your ex's Facebook activities and deal with him in other ways.
Note #1: Facebook frowns upon users who create multiple personal accounts, so option number 2 could be a little dicey.
Note #2: As far as option number 3 is concerned, you'll just have to use your own judgment as to whether you should get a third party involved in your situation or not.
I hope this helps Freida. Good luck!
Bonus tip: This post explains how to prevent people from 'Following' you on Facebook.
---
Cick here to ask me a tech question.