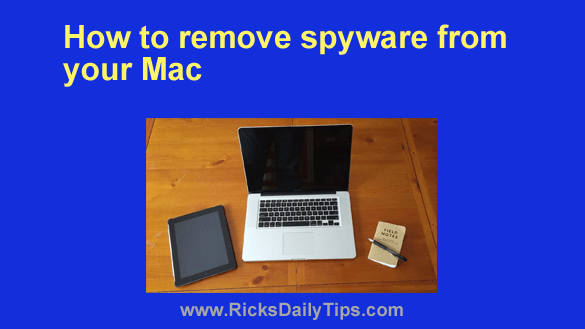 If you've started noticing a lot of unusual and intrusive activity on your Mac, chances are you've fallen victim to some type of malware.
One common type, in particular, is spyware which can be incredibly sneaky and difficult to notice. So, unless you have a Mac spyware remover installed on your device, you will have to detect and remove this malicious software yourself.
Here's everything you need to know… 

What is spyware?
Spyware is one of the many types of malware, which is essentially an intrusive software that has been created for malicious purposes – to gain unauthorized access to your device, damage your processes and gather any information that can be of benefit to the hacker.
Spyware specifically is focused on violating your privacy and collecting your personal data without your consent.
There are different kinds of spyware too, including password stealers, info stealers, sound and video recording, cookie trackers, banking trojans and so on. These will monitor your activity in various ways and the consequences of this can be of ranging levels.
In the best scenario, your data will be sold for advertising purposes or to spam you and your contacts.
The worst case could be anything, from accessing your bank details, to blackmailing you with sensitive information.

How do I know if I my Mac is infected with spyware?
Spyware can sneak its way into your device through several different ways. It could be through a dodgy program or app that you installed yourself. It can also be as simple as clicking on the wrong advert or a phishing email.
The good news is you can avoid getting spyware by simply being a thoughtful and cautious user. Here are a couple of tips:
1 – Only download software from trusted sources. The Internet has numerous download sites offering programs and apps that promise to solve various problems you and/or your Mac might be experiencing.
The problem is, many of these sites distribute software that was specifically written to steal your private and financial information.
2 – Be careful about the links you click on social media sites and unfamiliar websites. And whatever you do, don't click any links in emails that you don't know 100% for sure to be safe.
Now the above being said, even the most security-conscious users can still have their Macs get infected with spyware, and without a good Mac spyware removal tool it can be difficult to detect.
Here are some common clues that you device may be compromised:
Your computer feels slower and more sluggish than usual
Getting suspicious / unusual pop-ups and adverts
Battery is draining faster than usual
Antivirus software an other programs won't work
Difficulty logging into secure websites / unusual errors

How to remove spyware from your Mac
While spyware is very annoying and can also be dangerous, it is usually quite simple to remove from your Mac. This can be done several ways…

The easy way: Use a Mac spyware remover
Perhaps the easiest and fastest way to deal with spyware is by using a dedicated malware removal tool. These are designed to effectively scan your whole device, detect any suspicious behavior and remove any threats in an instance. Having one of these tools will ensure that the spyware is taken care of as soon as possible and before too much damage has been done.

The manual way
There are also ways to remove spyware manually.
First of all, if you are using an outdated macOS version, make sure to update it as soon as possible.
Apple has some built-in protection tools to deal with malware and updates are typically there to improve your device security. It may not remove an existing malware, but it will help protect your device from larger issues.
You can often get rid of spyware by deleting any suspicious apps that have somehow managed to make it onto your machine. To do that, follow these steps:
1 – Select Finder from the top menu on your Mac's screen.
2 – Click Applications.
3 – Click on the app you want to delete and drag it to the Trash Can.
4 – Open Trash and click the Empty button.
5 – Repeat the steps above for every program you wish to delete.
Next, remove any suspicious browser extensions. These can be removed via your browser Settings or Preferences, depending on which browser you are using.

Bottom line
Spyware can pose a serious threat to your online and financial security. That's why it's important to keep it off your system at all times.
---