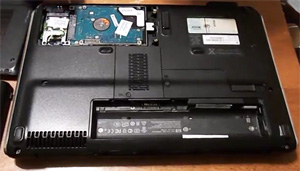 Question from Ethan K.:  Hi Rick. My uncle gave me his old HP Pavilion dv4 1123us laptop because the hard drive died.
I have a hard drive to replace it with but I can't get the old hard drive to come out of the laptop. I removed all the screws that hold the hard drive in place, but one side of it refuses to budge.
Is there another screw that I'm not seeing? I'd really appreciate any help you can give me.
Rick's answer:  Hi Ethan. Removing the hard drive that particular laptop is a four-step process:
1 – Remove the laptop battery and the small plastic cover over the hard drive bay.
2 – Remove all the screws that hold the hard drive in place.
3 – Slide the drive in the direction opposite the edge connector (either to the right or the left) until the drive slips free.
Note: You'll know which end of the drive the connector is on because that'll be the side that's "stuck" to the laptop.
4 – Lift the drive out of the bay.
Here's a short video that clearly illustrates the steps listed above:
My guess is you're skipping step 3 in the directions above by trying to lift the drive out of the bay without sliding it out of the connector first.
Give that a try and let me know how it goes. Good luck!
Update from Ethan:  Thanks, Rick. That helped a lot! You were right about me not sliding the drive out of the connector before trying to lift it out of the bay. Doh!!!
Bonus tip #1: You're having to replace the hard drive in your uncle's "hand-me-down" laptop so that means you're going to have to install an operating system on it as well. I strongly recommend that consider skipping Windows and install Linux on it instead.
Bonus tip #2: Want to make sure you never miss one of my tips? Click here to join my Rick's Tech Tips Facebook Group!
If Facebook isn't your cup of tea, I invite you to sign up for my Rick's Daily Tips Daily Update Newsletter.
---
Want to ask Rick a tech question? Click here and send it in!
If you found this post useful, would you mind helping me out by sharing it? Just click one of the handy social media sharing buttons below.