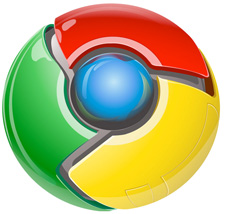 Question from Keith:  Hello Rick. I recently noticed a new icon in the notifications area of my task bar when I use the Chrome web browser. When I hover my mouse over the icon it says "Chrome Notifications".
I don't need this icon in my task bar and I want to get rid of it, but I can't figure out how to do it. Can you help?
Rick's answer:  Keith, you can indeed remove Chrome Notifications from your task bar. Here's how: 
1 – Load the Chrome browser and type (or copy and paste) the following into the address bar:
chrome://flags/
2 – Press the Ctrl+F key combination to open a search box, then type the word rich into the search box. The entry labeled "Enable Rich Notifications" will be highlighted.
3 – Select Disabled from the drop-down box below the "Enable Rich Notifications" setting, then click the Relaunch Now button that's located at the bottom of the window.
That's all there is to it Keith. After Chrome relaunches, you will no longer see the "Chrome Notifications" icon in your taskbar.
---
Do you have a tech question of your own for Rick? Click here and send it in!