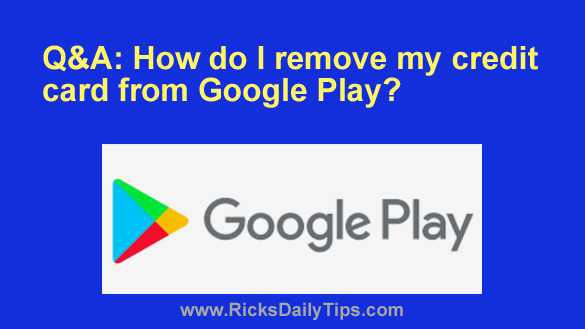 Question from Janet:  A while back my sister wanted to buy a game for my daughter to play on her tablet so I let her enter my credit card info into Google Play and buy it.
But now with all the hacking that's been going on lately I'm really nervous about having my credit card info online.
Can you please tell me how to remove my card number from the Google Play app? 
Rick's answer:  I'll be happy to help you with this, Janet.
Luckily, it's pretty easy to remove your card info for Google Play. Just follow the steps below:
1 – Open Play Store app on your phone or tablet.
2 – Tap your profile picture in the top-right corner of the screen.
3 – Tap Payments & subscriptions.
4 – Tap Payment methods.
5 – Scroll down and tap More payment settings.
6 – Tap the Remove link that's underneath your card, then tap the Remove button to confirm that you really want to remove it from the account.
That's all there is to it. Your card info should now be deleted from that Google Play account.
If you ever want to purchase another app or make an in-app purchase of any kind you can always add your card info back to the account and then remove it again after the transaction has been completed.
I hope this helps, Janet. Good luck!
---