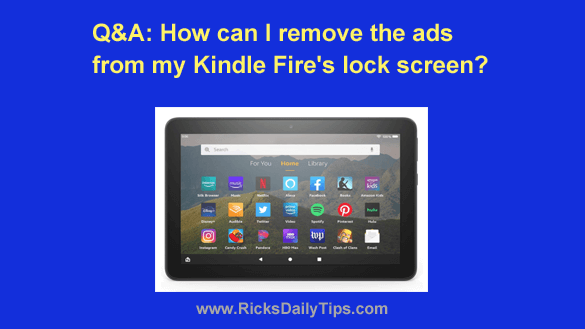 Note: The links on this page are affiliate links.
Question from Dora:  A few months ago I bought a Kindle Fire HD tablet and decided to get the one with "Special Offers" to save a few bucks.
I've now come to regret buying the cheaper model because the ads are so irritating!
Is there a way to remove those ads? Maybe by installing an app or something?
I'm pulling my hair out with this thing and I'll do whatever I need to do as long as it won't harm the device in some way.
Thanks in advance for your help.
Rick's answer:  I certainly understand your frustration, Dora. You're certainly not alone in feeling this way about the ads.
Plenty of folks are happy to put up with the ads in order to save the cash.
In fact, lots of people actually love the ads because they are extremely targeted to their likes, needs and desires.
But plenty of others would rather pay the extra cash required to receive an ad-free device.
Luckily, the answer to your question is yes, you can indeed remove the ads from your Kindle Fire. However, you won't be able to do it for free.
You'll basically be required to pay Amazon the amount of money you saved in the first place by opting for the "with offers" version of the tablet.
If you're OK with that, just follow the steps below to pay the upgrade fee and remove the ads from your Kindle Fire HD:
1 – Click here to visit "Amazon's Manage Your Content and Devices" page in your web browser, then log in to your account if prompted to do so.
2 – Click the Devices link on the white menu bar that's located near the top of the page.
3 – Select the device you want to remove the ads from.
4 – Under "Special Offers", select the Remove offers option.
A window should now pop up showing the price you'll need to pay in order to remove the ads from your device.
5 – Select End Offers and pay the fee, then follow the prompts as they appear to finish the upgrade process.
That's all there is to it. Your device should now be equivalent to an ad-free model, but it could take up to 24 hours for the ads to actually be removed.
If the ads are still present after 24 hours you'll need to shut down and restart the tablet in order for the change to take effect.
---
Never miss a tip!  Click here to sign up for my free Daily Tech Tips Email Newsletter!