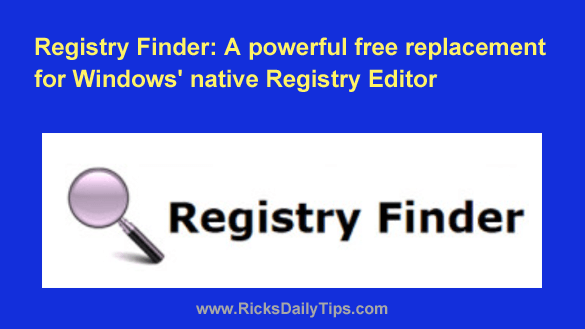 Many of the tips I post on this blog involve making changes to the Windows Registry.
The problem is, Windows' native Regedit Registry Editor can be a real pain to use.
One of my biggest pet peeves with Regedit has always been the way we have to navigate several layers deep into the registry tree using the mouse.
But thanks to a fantastic free utility called Registry Finder, you no longer have to. 
Registry Finder has an awesome feature called "Quick Jump" that allows you to copy the entire path to a Registry key and paste it into the program. It will then jump directly to that key.
That saves a ton of clicking AND it helps ensure that you end up changing the correct Registry key.
Registry Finder also has several other great enhancements over Regedit, including a much better search feature that opens a list of the search results in its own window. It even lets you edit a key's parameters directly in the search results without having to actually open the key. What a great time saver!
As you can see, Registry Finder is a lot more powerful than Windows' Regedit. That means I really need to give you this simple warning:
Be aware that editing the Windows Registry with any Registry Editing tool involves a certain amount of risk.
One tiny error in the Registry can wreak all kinds of havoc with your Windows installation, including the failure of the machine to boot into Windows at all.
For that reason, you should ALWAYS make a backup copy of the Registry before you even think about making any changes to it. Just sayin'.
Bottom line: If you tend to make lots of changes to the Windows Registry, I strongly recommend giving Registry Finder a try. You can read more about it and download it for free right here.
Bonus tip: Click here to check out Process Explorer, a powerful free replacement for the Windows Task Manager.
---