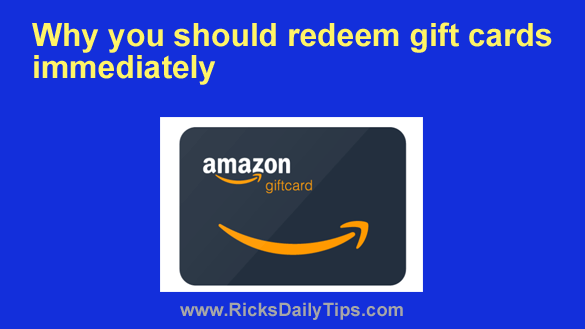 Note: The links in this post are affiliate links.
Like most of us who are living through the Internet age, chances are you receive gift cards via email on occasion.
For example, you might receive a gift card as compensation for filling out a survey or performing some other task.
Or of course it could simply be a gift from someone. 
These virtual gift cards typically arrive in the form of an emailed redemption code that you must enter on the merchant's website in order to redeem the card so you can actually spend the money.
The thing is, if you happen to accidentally delete the email or it otherwise gets lost, you could well end up losing that money with no way to recover it.
Some merchants have mechanisms in place for helping you recover "lost" emailed gift cards. For example, Amazon has an entire page dealing with gift card redemption issues.
However, many smaller retailers don't provide a way to track and recover gift cards that end up getting lost somehow.
And by the way, this can happen to anyone, at any time. In fact, it just happened to my niece when all of her emails suddenly went missing (and she's a very savvy online shopper).
That's why I recommend that you redeem any gift cards that arrive in your email Inbox as soon as possible.
But what if you have a physical gift card stowed away in a cabinet or drawer?
Well, there's always a chance you could either lose it or forget you even have it. And if you eventually find it you'll likely discover that it has already expired.
Most retailers will allow you to redeem a card before you're actually ready to spend the money. They basically just credit your account for the amount that's on the card.
Other retailers force you to wait until you're ready to make a purchase, at which time you enter the card's redemption code into a box on the checkout screen. There's really little you can do in that situation except just try to guard the email or physical card as best you can.
Bottom line: If a gift card can be redeemed ahead of time, I strongly recommend that you do it as soon as possible after you receive the card, especially if the value of the card is a substantial amount.
Redeeming a card is usually a simple task that only takes a few seconds, but it could end up helping you avoid incurring a major financial loss.


---