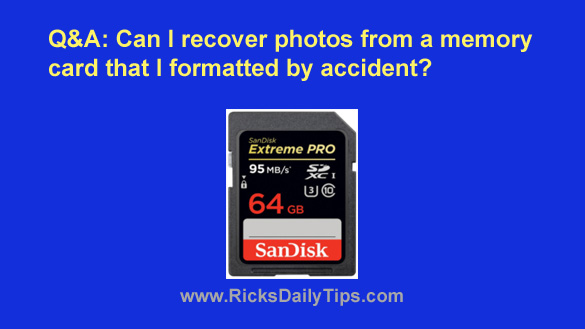 Question from Gabby H.:  Rick, I made a really stupid mistake and I'm hoping you can help me out of a jam.
I'm not a pro photographer or anything, but I do love taking pictures, and I take a lot of them.
I use my trusty Canon Powershot camera with two SD cards (I swap them out when the first one becomes full).
What happened is I accidentally formatted the wrong card and wiped out a ton of pictures that I really want to keep. Is there any way to get those pictures back?
Rick's answer:  Gabby, if all you did was format the card without trying to use it again, you most likely can retrieve most (and possibly all) of your lost photos.
This post discusses a fantastic file recovery utility called Recuva. Read it, then click the link to the download page.
In a nutshell, Recuva will scan your memory card and compile an inventory of all the files that haven't been over-written with new files since the card was formatted.
I have a feeling that most (if not all) of your photos can be recovered since you probably stopped taking photos and storing them on that card after it was formatted.
I recommend that you download and install Recuva and give it a try. I believe it'll get you out of your self-inflicted jam (a jam that most of us have found ourselves in at least once). Please let me know how it goes.
Update from Gabby:  It worked Rick!! I was able to retrieve almost all of my photos! Thank you soooooooo much!
Bonus tip: This post explains my #1 tip for taking great photos.
---
Never miss a tip!  Click here to sign up for my free Daily Tech Tips Email Newsletter!