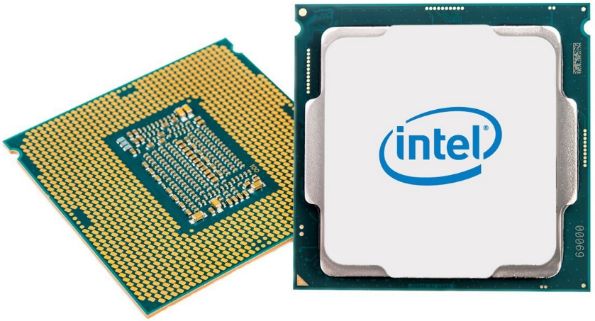 Question from Chris B.:  I saw a brand new Intel Core i7-8700K CPU for sale on Ebay for only $260. That's a lot less that what I'd have to pay elsewhere so I ordered one.
The sales page said the CPU was brand new in the box and it had never been opened, but I have my doubts about that.
When I received it the box had been opened and taped back shut and some of the pins on the CPU were bent. I can also see traces of thermal paste on the surface.
I believe they sold me a used CPU instead of a brand new one. I could always install the CPU in my rig and see if it works but I'm afraid they'll try to say I damaged it myself while installing it.
How would be the best way to handle this? Even if it works I don't like the idea of being sold a used item after being led to believe it's brand new.
By the way, the seller has excellent feedback (over 6,000 feedbacks with 98.5% positive). I haven't left feedback on this transaction yet.
Rick's answer:  I don't blame you for being upset, Chris. I would be too if I purchased any item that was described as brand new but it was obviously used, and that goes double for an expensive computer component like a CPU.
Given the seller's excellent feedback rating there's a good chance that he simply made an honest mistake and sent you the wrong CPU.
I used to be an Ebay seller myself back in the day and I know from personal experience that honest mistakes are easy to make even when you try your best to do things the right way.
What I recommend is that you contact the seller and explain that you received a used CPU instead of a new one and ask him to make it right.
My guess is he'll work with you to resolve the situation in order to preserve his great feedback rating. After all, it's pretty hard to complete over 6,000 transactions and maintain close to a 100% positive rating by being dishonest or providing lousy customer service.
All of the above being said, if he inexplicably refuses to make things right you can always leave negative feedback and file complaints with Ebay, PayPal and/or your credit card issuer. This is a case where you would clearly qualify for a charge-back and the seller surely knows it.
I hope this help, Chris. Good luck!
Update from Chris:  Thanks Rick. I sent the seller a message and he apologized and said he's going to send me a new CPU and I can even keep the old one as a spare! After I receive the new CPU I'm going to leave him a glowing feedback comment!
Bonus tip #1: This post explains how to sell your old wanted and outdated tech gear on Ebay or Craigslist for top dollar.
Bonus tip #2: Want to make sure you never miss one of my tips? Click here to join my Rick's Tech Tips Facebook Group!
---
Would you like to ask Rick a tech question? If so, click here and send it in!
If you found this post useful, would you mind helping me out by sharing it? Just click one of the handy social media sharing buttons below. Thanks a bunch!