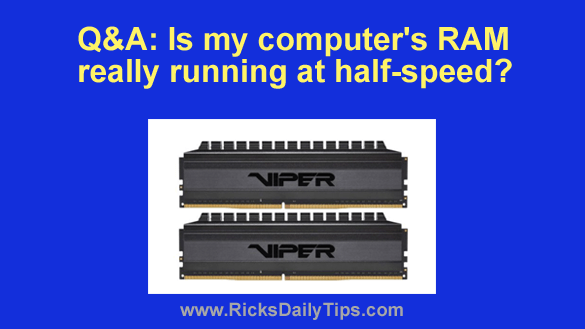 Question from Jimmy:  A few years ago I paid a computer tech to build a gaming PC for me.
This machine has a Gigabyte AB350-Gaming 3-CF motherboard and 8GB of Patriot Viper DDR4-3000 RAM in it.
That means the RAM should be operating at 3000 MHz, right?
After reading your post about Speccy I decided to install it and run it just to see all the specs of my system at a glance.
Speccy is reporting the DRAM speed to be 1496 MHz instead of 3000.
Is my RAM actually operating at that speed or is Speccy just reporting it wrong? 
If it really is running too slow how can I fix it? I'm really confused because according to my motherboard manual everything is set the way it should be in the BIOS.
Rick's answer: Jimmy, the DRAM speed that Speccy is reporting is indeed accurate so you don't need to do a thing.
Unfortunately, the speeds associated with RAM modules are frequently misunderstood. I wish the RAM manufacturers and computer retailers would explain things a little better.
The original DRAM modules of yesteryear only transmitted data once per data clock cycle, therefore the effective "data rate" matched the system's "data clock rate" exactly.
DDR RAM (including your DDR4 modules) transmit data twice per data clock cycle, once on the rising edge of the clock pulse and again on the falling edge.
In fact, the acronym DDR stands for "Double Data Rate" which means the number of data transfers per clock cycle will be double the actual data clock rate.
Bottom line: You can rest easy because the RAM in your new gaming machine is operating just fine and at the correct clock speed!
---