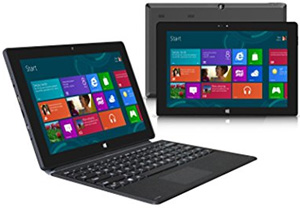 There are tons of tablets PCs on the market today, and most of them are running either Android or iOS. But the real computing power lies in Windows-based tablets.
While it's true that most any tablet will work just fine if all you need to do is visit a website or two, send emails, play a simple game or peruse Facebook, you really need the power and flexibility of a full-blown computer if you plan to do any real work.
If you're looking for a true workhorse of a tablet at a great price, I believe you'll find that the Quantum View 10.1″ Tablet and Keyboard with Windows 8.1 & Office 2013 is an outstanding option. This awesome device offers much of the power and functionality of Microsoft's Surface line of Windows tablets at less than half the cost. 
The folks at Quantum View managed to pack a lot of computing muscle into this tablet, allowing it to run Windows 8.1 and Office 2013 (both of which are included) much better than one would expect for a machine in its price range. Just check out these specs and list of included components:
A crystal-clear 10.1″ Touch Display
An Intel Baytrail-T (Quad-core) 1.5 GHz CPU
2GB of fast DDR3 RAM
32 GB Integrated Flash Storage
1 Mini-HDMI Port
1 USB port
Detachable Keyboard and Trackpad integrated into an attractive Carrying Case
Wall charger
Micro-USB Cable
Front and rear facing cameras
As you can see, this is indeed a very capable tablet.
One of the first things I noticed when I removed the Quantum View 10.1″ Windows Tablet from the box was how sturdy and well-built it is.
Unlike most cheap Android tablets, this one is made to stand up to heavy use. And thanks to the pre-installed Windows 8.1 operating system and Microsoft Office 2013 productivity suite, you can begin doing real work immediately after completing the short and painless setup process.
Before doing anything else, I plugged the tablet into the wall charger and let the battery charge overnight. When I turned it on the next morning, Windows automatically launched the setup routine. After making a few quick selections, I found myself looking at a usable Windows 8.1 Start Screen. The entire process took all of about 5 minutes.
After that initial startup/setup sequence, this tablet now fully boots to the Start Screen in about 10 seconds thanks to the super-fast internal flash storage. That's much faster than any of my Android tablets!
When attached, the keyboard and trackpad make the Quantum View a true joy to use. They both respond quickly and smoothly to the touch, with no apparent delay whatsoever. And unlike Microsoft's much more expensive Surface, the keyboard and trackpad docking station is included at no extra cost.
The only thing lacking in this tablet is an optical drive, but that's to be expected with any modern tablet PC. If you ever find yourself in need of one, you can always attach an inexpensive external USB optical drive to the tablet's USB port.
Bottom line: If you're looking for a Windows tablet that offers plenty of bang for the buck, I don't believe you'll be able to beat this excellent tablet from Quantum View. It's powerful, it includes everything you need to get down to business, and it's built to last.
Click here to check out the Quantum View 10.1″ Tablet and Keyboard with Windows 8.1 & Office 2013 at Amazon.
Note: The links in this post are affiliate links.