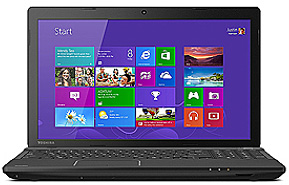 Question from Mark V.:  I bought a brand new Toshiba Satellite C55-A laptop from Best Buy a couple of months ago, then had to go out of town on business for 6 weeks before I could even open the box and try it out.
When I got back home I hooked it up and found out that the Wi-Fi connection is really SLOW!!! I know it's not a weak signal from the router because both my 5 year old HP laptop and my iPad 4 get great wireless speeds in every part of the house.
I've tried everything I can think of, including resetting Windows 8 to the factory default. No luck!! Any ideas? Neither Toshiba nor Best Buy were any help at all since I had to wait so long to try it out!
Rick's answer:  Mark, this seems to be a common problem with some Toshiba laptops running Windows 8, and installing the latest driver from the Toshiba website usually fixes it. Visit this page and download the Wi-Fi driver for your laptop. Install it and see if the wireless speeds improve. If not, let me know and we'll try the next item on my list.
Update from Mark:  Awesome Rick – it worked!! Thanks  lot!!
---
Do you have a tech question of your own for Rick? Click here and send it in!
Need expert computer help? Click here to read about the services that I provide.