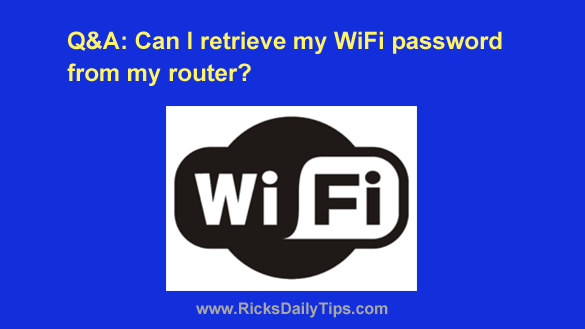 Question from Sean:  My wife and I rented out a spare bedroom to a college student a while back, and once while we were on vacation our router died.
Not wanting to have to do without Wi-Fi until we got back, our renter purchased a replacement router and installed it.
When we got back from our trip he gave us the password he had put on the new router's wireless network and we used it to log on to the network with our Windows 10 PCs.
When our renter left he told us we could keep the router, and we were very grateful. The problem is we lost the paper with the Wi-Fi password  on it.
My wife had to have the hard drive in her laptop replaced and when they reinstalled Windows 10 it wiped out her password. Do you know of any way to retrieve the Wi-Fi password from the router so she can sign back on to the network? I'd hate to have to go out and buy another new router if I can avoid it.
If I have buy a new router I might just use the wireless without a password to avoid running into a situation like this again.
Rick's answer:  Sean, the short answer to your question is no, there is no (easy) way to retrieve the Wi-Fi password from your router. But you do have a couple of excellent options that don't require the purchase of a new router.
First, you could always reset your router back to its factory default settings and then create a new Wi-Fi network with a new password. This post explains how to do that.
But a faster and easier solution is to retrieve the password from your own computer.
Since your computer has Windows 10 on it you can easily access the Wi-Fi password from there. Here's how:
1 – If it isn't connected already, connect your PC to your Wi-Fi Network.
2 – Open the Control Panel.
3 – Click Network and Internet.
4 – Click View network status and tasks.
5 – Click the name of your Wi-Fi network over on the right, then click Wireless Properties in the window that pops up.
6 – Select the Security tab. You should now see a box containing the "Network Security Key" displayed as a series of dots. The dots represent your Wi-Fi password in hidden form.
7 – Check the box beside Show characters to display the password for your Wi-Fi connection. Enter this password on your wife's new laptop to log into your Wi-Fi network. You might also want to write the password down at this point and keep it tucked away somewhere for later use.
That's all there is to it, Sean. Good luck!
Bonus tip: You mentioned the possibility of using your Wi-Fi network without a password. This post explains why I strongly recommend that you never do that.
Update from Sean:  Thanks Rick! I was able to retrieve the password from my computer and avoid having to reset the router. I really appreciate your thorough instructions.
---