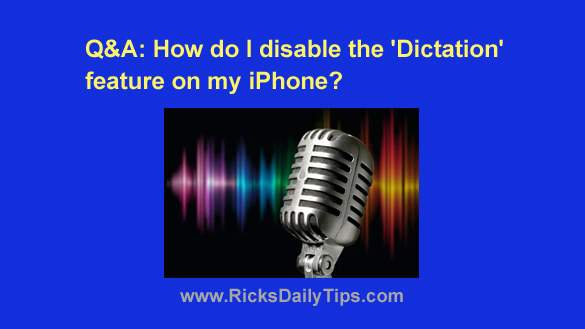 Question from Ryanna:  I'm always accidentally hitting the "Microphone" button when I'm typing on my iPhone and I hate it.
I never use Dictation anyway so I'd like to disable it. How do I do that? 
Rick's answer:  That happens to lots of folks, Ryanna. That rascally microphone icon is in a very inconvenient place in my humble opinion!
Luckily, it's very easy to disable the Dictation feature (which removes the "Microphone" button from the keyboard) in iOS. Here's how:
1 – Tap the "gear" shaped Settings icon.
2 – Tap General>Keyboard.
3 – Scroll down to the "Enable Dictation" setting and toggle it to Off.
4 – Tap Turn Off Dictation.
That's all there is to it, Ryanna. From now on you'll be able to type on your iPhone without accidentally tapping the "Microphone" button.
Note: If you ever decide that you'd like to start using the Dictation feature, simply follow the steps listed above and toggle the "Enable Dictation" setting back to On.
By the way, the dictation feature is actually pretty useful in some situations.
For example, it's often a lot faster and easier to "dictate" your emails and text messages than to type them out.
And one of my favorites is to use dictation to perform a quick web search!
I hope this helps, Ryanna. Good luck!
---