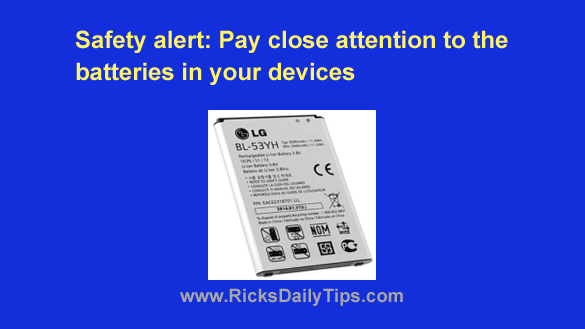 You probably heard about the trouble Samsung had a few years back with the batteries in their devices exploding and/or catching fire since it was all over the news at the time.
Well, I have something to tell you: This problem isn't limited just to Samsung devices.
Truth be told, the lithium ion battery in any device can explode and/or catch fire if the conditions are right.
This issue is often caused by either a poor battery design or a faulty manufacturing process, in which case a bunch of devices will often fail in a short period of time, alerting the company to the fact that there's a battery problem that requires a recall.
I'm sure the folks at Samsung could tell you all about that.
Luckily, defective batteries that are built in batches usually cause relatively few problems since the fault is usually noticed early and a recall notice is issued before a bunch of devices have a chance to explode.
In my opinion, a far more dangerous situation arises when a battery works fine for a while and then simply decides to explode and/or catch fire without any warning. And believe it or not, it does happen although instances are few and far between.
But that being said, it's very important to keep a close check on the health of the batteries in your devices. Here's what you should look out for:
1 – Make sure your smartphone, tablet or other mobile device doesn't overheat.
While it's common for devices to warm up during use, a device should never get so hot that it cannot be comfortably held in your hand.
It's not unusual for a device to get warmer than usual when performing certain tasks (like using the GPS feature on your smartphone for example), but it should never get too hot to touch. If yours does, stop using it immediately and have it checked out.
2 – Never continue using a battery that begins charging slower than normal or stops accepting a full charge. Charging issues can cause a battery to over-heat and explode or catch fire.
If your device starts having serious battery issues you need to either replace the battery yourself (if possible) or take it somewhere and have it replaced by a technician.
3 – If possible, visually inspect the batteries in your devices every couple of months to make sure they aren't cracked or swollen.
Either of these conditions is a dead giveaway that the battery is now defective and dangerous, and it should be replaced right away.
If you have a device that's sealed, making it impossible to visually inspect the battery, check to see if the device's case is swollen or otherwise damaged.
Since these types of devices are typically very compact, a swollen battery will often cause the device's case to swell and/or crack as well.
If you notice either of these conditions, stop using the device immediately and have it checked out.
Bottom line: Be aware of the condition of the batteries in your devices at all times.
After all, a phone that explodes in your ear while you're talking to a friend or catches fire while your family is sleeping could really ruin your day.
---