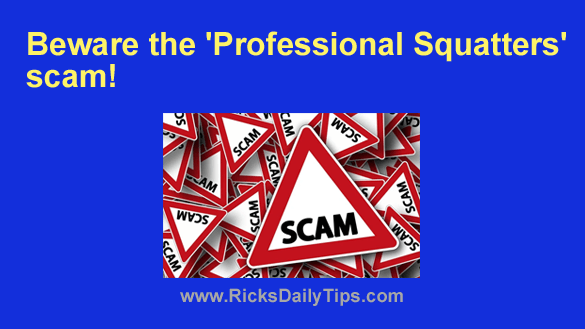 Do you have a home listed for sale or rent that's currently vacant?
Or how about a home you inherited that's setting empty while you try to decide what to do with it?
Or perhaps you have a parcel of undeveloped land that you purchased for an investment or that you inherited?
If so, there's an insidious scam going around right now that could cost you thousands in cash, lost sales and property damage, or even the outright loss of your property.
All across the country "squatters" are moving into vacant homes, changing the locks and having the utilities turned on in their name. In short, they just move in and start living there.
In other cases they simply take possession of a parcel of undeveloped land by pitching a tent, setting up a camper or even building a house and moving in.
Oftentimes the seller (and rightful owner) won't even know that squatters have taken possession of their property until someone calls them up and asks to see the home. When they show up with the prospective buyer, they discover they can't get into the house because the locks have been changed.
Even worse, the owners are sometimes met at the door by the squatters who simply refuse to let them in!
Sounds like something a quick visit by a police officer could fix on the spot, right? Well, it isn't always that simple.
In some states squatters can't be simply kicked out of a home, even if they moved in without the property owner's knowledge or permission. They can only be removed from the premises after going through formal eviction proceedings, which can sometimes take months.
Some squatters know this, and they actually "squat" to earn a living. They'll move into a vacant house, have the utilities turned on in their name and then contact the owner to let him/her know they have moved in.
They'll then offer to vacate the premises immediately without the owner having to evict them in exchange for an often-hefty cash payment. If the owner agrees and pays the "ransom", they simply move out and seek out another vacant home to move into.
To add insult to injury, if the owner refuses to pay the ransom and starts eviction proceedings, they will often discover that the home has been vandalized once the squatters have finally been forced out.
At the very least, it's hard to sell a home when potential buyers know they might not be able to take possession of the property for several months.
What a frustrating and potentially expensive experience.
And now, the kicker: Some states actually allow squatters to take title to the property they're squatting on if they can manage to maintain possession an use of the property for a certain length of time!
This appropriation of another person's property is called Adverse Possession, and unfortunately it's fairly common.
In most cases, adverse possession works something like this…
Squatters move onto a property and begin using it as if they actually own it. The rightful owners don't visit the property and the "neighbors" don't realize that the squatters aren't the rightful owners so they don't know that something is amiss.
After the squatters have continuously lived on the property for the statutory period that applies in that state (usually 7 years), they apply for legal title to the property. In most cases it will be granted.
Luckily, there are some things you can do to protect your vacant home against squatters, even if your state has a "Squatters Rights" law:
1 – Keep a close eye on your vacant property and contact the police as soon as possible after you discover that someone has moved in without your permission.
The sooner you act, the better your chance of getting the squatter kicked out. Once the utilities are turned on in their name it becomes considerably more difficult.
2 – Install a quality security system that includes break-in sensors on every door and window plus cameras that cover every potential entry point to the home. And make sure you keep the monitoring service active until the home is sold!
Even in states that have "Squatters Rights" laws, "Breaking and Entering" is still a crime. Having a quality monitored security system installed and operating will make it fairly easy to prove your case if the police ever have to get involved.
3 – Consider putting the home up for sale through a Realtor, especially if you live away from the area and cannot keep a close eye on the property yourself.
A good Realtor can do a lot more than just handle the sale of a home on your behalf. They also work the area so they can help you keep an eye on the property to ensure that it remains secure from squatters and vandals.
4 – If you find out that squatters are living on your property you need to take whatever legal action you need to take to have them evicted ASAP. Don't put it off because every day you wait gets them one day closer to reaching the statutory requirement for taking adverse possession!
Bottom line: If you have a home that you're trying to sell (or rent for that matter), taking steps now to thwart potential squatters can save you a ton of money and frustration when it comes time to close a sale.
Bonus tip: This post discusses 10 ways to fool burglars into thinking you're always at home.
---