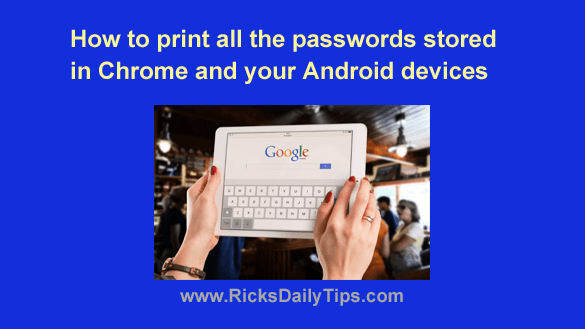 I recently wrote this post explaining how to view all the passwords that Google has stored from your Chrome browser and Android mobile devices.
That post ended up receiving a lot of attention and several folks asked questions about it.
Several folks asked if there's a way to print out the passwords that are stored in their Google accounts.
While there's no way to print Google's stored password list directly, you can easily download the list to your computer as a plain text file and then print it using your favorite text editor.
Just follow the steps below to print all the passwords that Google has stored from your devices:
1 – Click here to visit the "Password Manager" page in your Google account (log in to your account if you're prompted to do so).
2 – Click the Password Options icon that's located near the top of the page (it looks like a "gear" or "cog").
3 – Find the line labeled "Export passwords" and click the Export button located on the right-hand side of that line.
4 – Read the warning message, then click Export and enter your Google password is prompted to do so.
Note: You should now have a plain text file named Google Passwords.csv in your "Downloads" folder that contains a list of all your stored passwords.
5 – Open the Google Passwords.csv file in Notepad (or your favorite text editor) and you'll see the list of stored passwords.
Note: The first column in the list is the website or service the password is used for. The last two columns (the text after the last two commas) contain the username and password used to log in to that website or service.
6 – (Optional) – If all you want to print is the website/service and it's associated username and password you can edit out the unwanted field before you print it.
If you wish, you can also replace the commas separating the fields with spaces to make it easier to read the various text fields.
7 – After you have the info formatted to your liking simply press the Ctrl+P key combination to print the file.
That's all there is to it. After following the instructions listed above you'll have a hard-copy printout of all the passwords that Google has stored from your Chrome browser and Android mobile devices.
Bonus tip: All of the above being said, it's really a bad idea to use any type of password manager. These posts explain why.
---