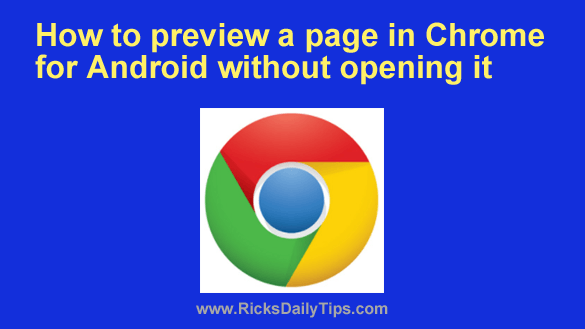 I have four different web browsers on my Android phone, and I use all of them at various times for different purposes.
The browser I prefer for reading articles and blog posts is Chrome because it has several useful features that simply aren't found in other browsers.
One feature that I really love and use often is "Page Preview", a nifty little tool that allows you to preview the web page a link is pointing to without actually opening the page in a browser tab. 
In a nutshell, this is a fast and easy way to see what's actually on a page so you can decide whether you want to click the link or not.
Just follow the steps below if you'd like to give it a try:
1 – Launch the Chrome app on your Android phone or tablet and use it to open any web page.
2 – Tap and hold your finger on a link that interests you until a menu pops up.
3 – Tap Preview page. The target page should now open in its own preview window.
You can now scroll through the preview and check out the content of the page. If you want to you can even read the entire article there without affecting the original web page that's still open in the underlying browser.
When you're finished with the preview page just tap the X in the top right corner to close it. That will return you to the browser so you can pick up right where you left off.
You can now either click on the link you previewed to open that page for real or simply move on and read the rest of the current page.
That's all there is to it. Now you know how to preview the page a link is pointing to in the Chrome for Android app.
---