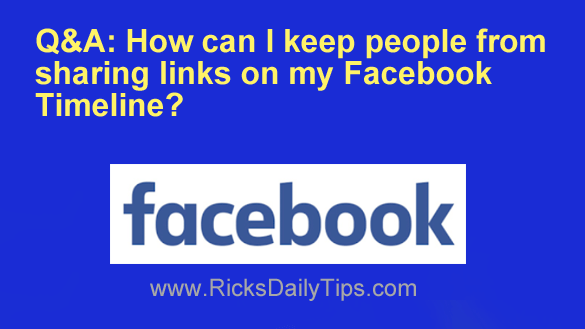 Question from Mary:  How can I prevent people from posting links on my Facebook Timeline?
I don't mind them posting pictures and other stuff, but links scare me after everything I've read about hackers using them to spread viruses and hack into people's accounts.
Rick's answer: I can understand why you might want to do this, Mary.
If one of those links turns out to be a vehicle for distributing malware, YOU could end up being viewed as the culprit by your friends instead the person who actually posted it.
Unfortunately, there is no privacy setting that will disallow the posting of links while still allowing the posting of text and photos.
It's basically an all or nothing deal. In order to disallow the posting of links on your Timeline you'll need to disallow posting anything at all.
Luckily, it's very easy to disallow others from directly posting things on your Facebook Timeline. Just follow the steps below for the device you're using to access Facebook.
If you use Facebook in a web browser on a laptop or desktop computer:
1 – Click the down arrow located at the blue bar located at the top of the Facebook window, then click Settings & privacy.
2 – Click Settings.
3 – Click Profile and Tagging on the menu over in the left-hand column.
4 – Change the "Who can post on your Profile?" setting to Only Me.
If you use the Facebook app on a mobile device:
1 – Tap the Menu icon (it looks like three horizontal lines stacked atop one another).
2 – Scroll down and tap Settings & Privacy.
3 – Tap Settings.
4 – Scroll down to the "Audience and visibility" section and tap Profile and Tagging.
5 – Change the "Who can post on your Profile?" setting to Only Me.
That's all there is to it. After completing the steps listed above, only you will be able to post ANYTHING on your own Timeline.
I hope this helps, Mary. Good luck!
Bonus tip: Now that I've said everything I said above, read this post to learn why there's really no such thing as privacy on Facebook!
---