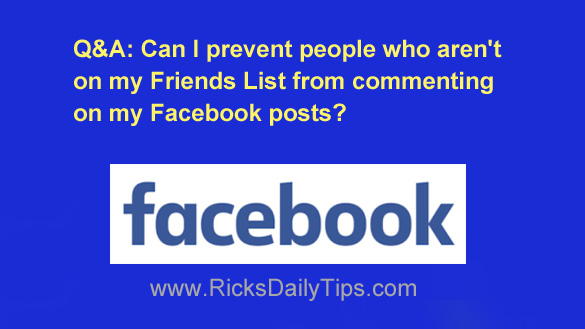 Question from Tammy S.:  I don't like it when people who aren't friends with me on Facebook comment on my posts and sort of take them over.
Is there any way to prevent people I'm not friends with from leaving comments on my posts?
Rick's answer:  Hi Tammy. As far as I know there's no way to stop non-friends from commenting on your posts directly, but you can definitely prevent them from seeing your posts in the first place. And if they can't see your posts, they obviously can't comment on them either.
Here's how to change your Facebook settings to ensure that only your friends can see and leave comments on your posts. Just follow the steps below for the device you're using.
If you're using Facebook in a web browser on a laptop or desktop computer:
1 – Click the down arrow at the right side of the blue bar near the top of the screen.
2 – Click Settings.
3 – Click the Privacy link over in the left-hand column.
4 – Click Who can see your future posts?
5 – You'll see a box containing a button with a label and a "down arrow" on it. Click the down arrow and select Friends.
6 – (Optional) – The change you made above will only prevent non-friends from seeing (and commenting on) the posts/photos that you put on Facebook from this point forward.
You have the option of making this change retroactive to hide your existing posts from non-friends as well. Simply click the Limit Past Posts link, then click Limit Old Posts.
7 – Click the Home link in the upper right-hand corner to return to your news feed.
If you're the Facebook app on a mobile device:
1 – Tap the Menu icon in the upper-right corner of the screen (it looks like three horizontal lines).
2 – Tap Settings & Privacy.
3 – Tap Settings.
4 – Scroll down to the "Privacy" section and tap Public Posts.
5 – Scroll down to the "Public Posts Comments" section and select Friends.
That's all there is to it. From now on only people who are on your Friends List will be able to see your posts and leave comments on them.
I hope this helps, Tammy. Good luck!
Bonus tip #1: This post explains how to verify your Facebook profile's privacy settings by viewing your Timeline as others see it.
Bonus tip #2: Want to make sure you never miss one of my tips? It's easy! Just…
Click here to sign up for my free Rick's Daily Tips Email Newsletter!
---
Would you like to ask Rick a tech question? If so, click here and send it in!
If you found this post useful, would you mind helping me out by sharing it? Just click one of the handy social media sharing buttons below. Thanks a bunch!