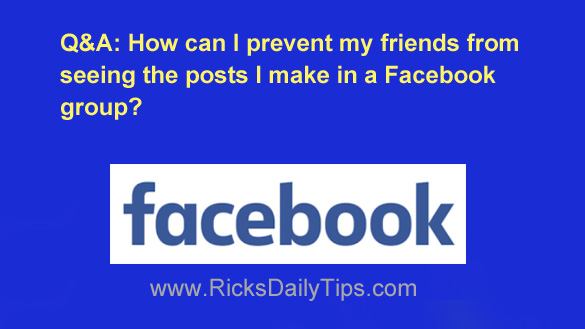 Click here to sign up for my free Rick's Tech Tips Newsletter!
---
Question from Kellie:  I'm in a few Facebook groups that are very personal in nature (victims of abuse, etc.).
I would prefer that my friends didn't see the posts I make in these groups.
Is there a way for me to post in these groups without having the posts visible to my Facebook friends?
Thank you in advance for your help!
Rick's answer:  I can certainly understand your frustration about this situation, Kellie. Lots of other folks share your concerns over the lack of privacy afforded to members of Facebook groups that deal with sensitive or potentially embarrassing topics.
Unfortunately, there's nothing you can do on your end to alter the privacy setting of a group you're a member of unless you're also an administrator of that group. Only an admin can change a group's privacy level.
But what you can do is contact an admin in each of your groups and explain your privacy concerns and ask them to change the privacy levels of their group.
However, before you do that you might want to brush up on what the various privacy levels are and how they affect the visibility of the posts that are published within a group. The more info you have to convey to the admins the better your chances of getting the privacy levels changed.
When it come to privacy, there are basically three kinds of groups:
1 – Open Groups
Anyone can see an open group and everything that is posted in it, even if they are not a member of the group.
In fact, as stated on Facebook's "Groups Privacy" page, even people who aren't logged into Facebook will be able to see them.
If I understand your situation correctly, the groups you're in must be open groups since your friends can see the posts you make within them.
2 – Closed Groups
If a group is closed, anyone will be able to see the group itself and request to join it, but the posts within it are only viewable by members of the group.
Your group posts will still be published on your Timeline, but they will only be seen by other members of that closed group.
In other words, your Facebook friends who aren't also members of that group (and members of the public at large) won't be able to see the posts you make in a closed group.
3 – Secret Groups
As with private groups, posts made within a secret group are only viewable by the members of that group.
What's more, access to a secret group is severely restricted. No one who isn't a member can even access a secret group, and no one can request to join it.
In fact, secret groups don't even show up in the searches that people make on Facebook!
Only an admin of a secret group can add new members to the group. That means group members cannot add new members unless they are also an admin.
Bottom line: As I mentioned above, based on the info you provided it sounds like the groups you're concerned about are open groups.
That means anyone on Facebook can see the posts you make within the group, and that includes "strangers" who aren't even on your friends list.
The only way to prevent your Facebook friends (and even the public at large) from seeing the posts you make in a Facebook group is to ask a group admin to change the group's privacy level from Public to either Closed or Secret.
I hope this helps, Kellie. Good luck!
---
Want to ask me a tech question?  Cick here.