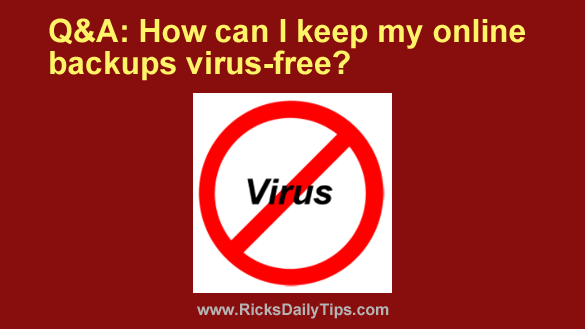 Question from Joyce:  I'm constantly taking pictures of my grandkids and copying them onto my computer. And since I don't want to lose them I keep my computer backed up with Carbonite.
But a nagging question has been bugging me for a while now.
Since Carbonite backs up my files automatically, how can I prevent it from backing up a virus too should I ever get one on my PC? 
Rick's answer:  That's an excellent question Joyce, and the answer is there is no foolproof way to prevent Carbonite (or any backup method for that matter) from backing up a virus along with your data. There are steps you can take to minimize the risk however.
First of all, it's important to understand that the nature of a standard Carbonite backup itself makes it unlikely that it will ever back up a virus.
Unless you subscribe to one of Carbonite's premium plans, the service only backs up the folders containing your data files, not the critical executable files that your operating system uses to run your computer.
Therefore, since most viruses like to hang out in the areas of your hard drive that won't be backed up, the odds of Carbonite backing up a virus that's living there are quite low.
All of that being said, some viruses come attached to image files, PDF files and other non-system files. This means they reside right in the midst of the files that DO get backed up.
The best way to prevent backing up these stealthy viruses is to prevent them from being downloaded to your PC in the first place. Here are a few tips for doing that:
1 – Make sure your computer is running a good antivirus program such as Malwarebytes Premium, AVG or a combination of Microsoft Defender and the free version of Malwarebytes.
Also, make sure your antivirus program and its definition files are updated regularly (once a day for the definition files).
2 – Be very careful about opening emails that contain attachments, even if those emails came from a trusted friend or other source. If you aren't already expecting to receive an email containing an attachment, contact the sender and verify that they actually sent it BEFORE you open the email.
3 – Only visit reputable websites, and even then be very careful about the links you click once you're on them.
Following the guidelines listed above will go a long way towards preventing a virus from making its way onto your computer, but there is still always a chance that one will slip through anyway.
After all, no anti-virus program or computer user is perfect. That means there's no foolproof way to prevent Carbonite from backing up the occasional virus.
Luckily, all Carbonite plans include a feature called "Versioning" which allows you to restore an older version of an infected file that was backed up before it became infected with the virus. You can read more about that right here.
And now, one final note: If your PC ever become infected with malware, you can root it out and remove it by following the steps listed in this post.
I hope this helps, Joyce. Good luck!
---