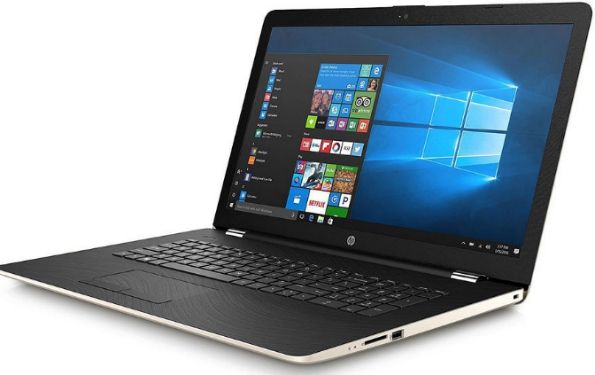 The new year brought with it several new mid-range Windows 10 laptops, one of which is the 2018 Premium HP 17.3″ Business Flagship Laptop PC. (#ad)
I recently had a chance to check one of them out.
To be blunt, I ended up liking this laptop ok but it does have some serious downsides, which I'll get to later.
Although this is being billed as a business laptop it would also make a decent general-purpose PC. I wouldn't really recommend it for use as a gaming laptop at all, but it should perform fairly well at most other common computing tasks.
First, let's take a look at the specs: 
17.3-inch diagonal HD+ SVA BrightView WLED-backlit Display (1600×900)
Intel HD Graphics 620 with 1 HDMI port
7th Generation Intel Core i5-7200U Dual Core CPU
8 GB DDR4 SDRAM
1TB hard drive
SuperMulti DVD writer
HP TrueVision HD Webcam with built-in digital microphone
DTS Studio Sound with 2 speakers
1 RJ-45 10/100 BASE-T Ethernet port
802.11ac Wi-Fi
Bluetooth 4.0
2 USB 3.1 Gen 1 (Data Transfer Only) ports
1 USB 2.0 port
microSD Media card reader
Up to 9 hours battery life
Windows 10
As you can see, there'a mixture of good and bad in the above-mentioned specs.
While the powerful Core i5 CPU and 8GB of DDR4 RAM are great, the system's performance is hampered by the following in my opinion:
1 – A laptop in this price range really should have either a 7200 RPM drive or SSD instead of the much slower 5400 RPM drive this machine comes with.
2 – The 1600×900 max screen resolution and weak integrated graphics controller leave a lot to be desired in the area of video processing and output.
3 – Since this is a brand new model I find it disappointing that it comes with USB 3.1 Gen 1 ports instead of USB 3.1 Gen 2 (the doubling of the data transfer speed should have made it a no-brainer in my opinion).
4 – The 100Mbps wired Ethernet LAN port is a major disappointment now that 1Gbps ports are pretty much standard industry wide.
Given the slow hard drive I expected to discover that this laptop boots up into Windows slower than most other Core i5 based laptops, and as it turned out I was right.
However, to be fair, once it was running Windows I found the system to be very responsive, so no disappointment there. But it still left me imagining how much faster everything would be with a faster hard drive or SSD.
Bottom line: Even with its downsides this is a fairly capable laptop, but I believe you'd be better off spending the purchase amount on a more powerful Core i5 machine.
Click here (#ad) to check out the 2018 Premium HP 17.3″ Business Flagship Laptop PC at Amazon.
Bonus tip: Want my best tip for choosing a great laptop? Read this!
Note: The links in this post are affiliate links.
---
Like this post? If so, I invite you to share it on social media. Just click one the handy buttons below.