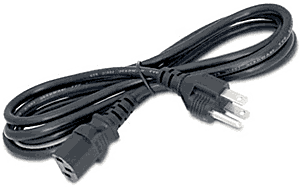 Question from Shelley:  Hi Rick. I have a question and you'll probably think it's silly. Will just any power cord that will fit be ok to use with my computer? It's an Acer Aspire ME600.
I just moved into a new dorm, and somewhere along the way I lost the power cord to my tower. I searched the entire campus between my old dorm and the new one and I couldn't find it anywhere.
My new roommate gave me a cord that she had left over when she replaced her old monitor. It fits in the socket perfectly, but it seems to be a little thinner than the one that came with my computer.
Do you think this old cord will work ok, or do you think I should buy a new one?
Rick's answer:  Nope, I don't think your question is silly at all Shelley. And your roommate's power cord should work just fine. The Aspire ME600 has a tiny 300 watt power supply unit which that cord should be able to handle with no problem at all.
In my opinion, most power cords that are 6 feet in length or shorter are pretty much interchangeable between computers and monitors that have small power supplies.
Just to be safe, you should carefully touch the power cord after the computer has been running for an hour or so. If it feels cool to the touch (and I have no doubt that it will), you should be able to use that cord with your PC with no worries.
---
Do you have a tech question of your own for Rick? Click here and send it in!