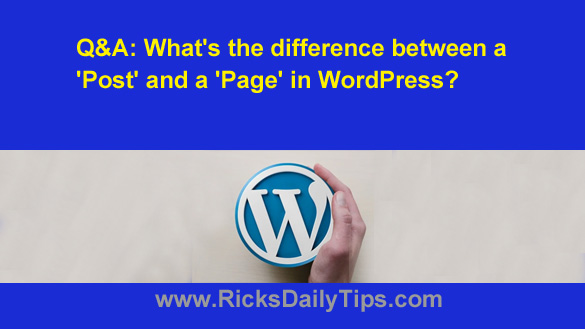 Question from Kathleen:  I was recently tasked to take over for the lady who had been writing our company's blog and I'm trying to learn all I can about how WordPress works.
Although I've never blogged before I believe I'm beginning to get a handle on things. But one thing is very confusing to me.
I keep seeing references to "posts" and "pages" like they are different things. I always thought they were the same thing.
Am I missing something?
Rick's answer:  I can certainly understand your confusion, Kathleen. Most of us think of anything that's found on the Internet at a specific URL as a web page, and on the most basic level that's correct. But in WordPress things are a little different. 
As you have already heard, in the world of WordPress there are two primary types of content: a "post" and a "page".
A post is what you would write during your normal day-to-day blogging activities.
It can reflect some piece of news that your company wants to put out, explain how to do something with one of their products, or pretty much anything else that the company wants the public to know.
Every post that's written will be published at the top of your blog's dated timeline. All of the older posts will move down one position.
Posts are searchable, but they usually don't end up being linked to from a menu.
Whether you end up writing one new post per month, one per week or several per day, the new ones always end up at the top of the list.
On the other hand, a page is a body of static content that rarely changes over time.
Pages are most often used to display information about a company such as its location and contact info, its mission, it's privacy policy, etc.
Pages don't show up at all in a blog's dated timeline of posts. Instead, they are usually linked to from a menu. But like posts, pages will show up in searches.
To use this blog as an example, what you're reading right now is a post. But if you click any link on the menu above this blog's header bar (except for the "Home" link) you'll end up viewing a page.
Bottom line: As the new writer of your company's blog, you can expect to write many blog "posts" as part of your duties. However, it's quite possible that you will never have to write a new "page" or even edit an existing one.
Bonus tips: There are a couple of things you can do to learn more about how WordPress works:
1 – Set aside some time to read all the posts I have written about WordPress.
2 – Get yourself a copy of WordPress All-In-One for Dummies (#ad). It's a fantastic book that's packed with practical WordPress tips and information.
I hope this helped clear things up for you, Kathleen. Congrats on the new position, and good luck!
---