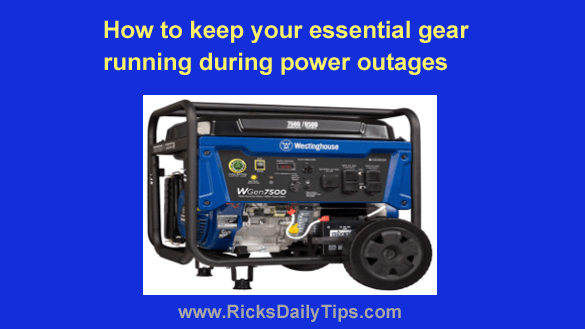 Note: The links in this post are affiliate links.
If you happen to live in an area that gets hit with frequent power outages, it pays to be prepared just in case the electricity goes off for hours, or even days at a time.
In my opinion, the best way to be prepared for an extended power outage is to have a portable generator
at the ready. 
Portable generators used to be quite expensive, but these days their prices are quite reasonable.
In fact, you can buy a small generator capable of powering a few lights, a television set, your various gadgets and a small appliance or two for less than $200.
If you need a more powerful model that will keep your refrigerator and several small appliances running, you can get one for just a couple of hundred dollars more. You can even buy a model with enough capacity to power a few electric heaters without spending a fortune.
Choosing a generator that will meet your particular needs is simply a matter of doing some basic math.
Simply add up the total running wattage required to power everything that you'd like run while the power is off, then take the one item that requires the largest number of starting watts and add this starting wattage to the previous total.
Finally, tack another 20% onto the total for a cushion.
Now that you know how large a generator you need for your residence or business, it's time to select one from the numerous models that are on the market today.
If you prefer to buy locally you'll find a decent selection of generators at local retailers such as Lowes Home Improvement stores, Home Depot and most any hardware or farm supply store.
That being said, an even better way to buy a generator is to visit Amazon
and compare the prices, user ratings and reviews of the generators that meet or exceed your minimum wattage requirements.
I recommend limiting your choices to only the generators that have at least a 4 star rating and plenty of great user reviews. If lots of other people have had good luck with a particular generator, chances are you will too.
Bonus tip: This post explains why you need a battery backup device for your computer.
---