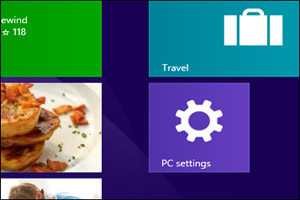 The PC Settings screen is one of the most useful screens in Windows since it allows access to a wide range of important tweaks and settings.
There are several quick ways to get to this screen in Windows 8.1, but if you find yourself using the Start Screen a lot, why not just pin it there?
Windows 8.1 makes it really easy to pin the PC Settings screen to the Start Screen. Here's how: 
1 – While on the Start Screen, click the circled down arrow at the bottom of the screen.
2 – Find the Tools section, then right-click on PC Settings.
3 – Click the Pin to Start button that pops up at the bottom of the screen.
That's it! From now on you'll have a handy tile for the PC Settings screen right on your Start Screen!
Bonus tip: Want even more power and flexibility at your fingertips? Set Windows 8.1 to default to the All Apps screen instead of the Start Screen! This post explains how.