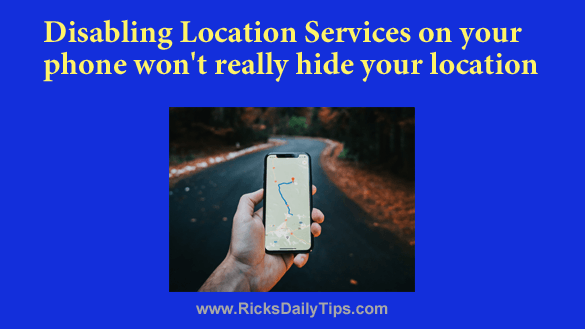 Click here to sign up for my free Rick's Tech Tips Newsletter!
---
Most people assume turning off a mobile phone's "Location Services" feature will prevent others from being able to track their location via their phone.
But truth be told, it really doesn't.
It's true that disabling Locations Services will prevent most apps from tracking your location.
However, there are actually several ways your location can be tracked via your cell phone even when Location Services is turned off:
1 – Your cellular provider constantly tracks your location using a method called triangulation, and that method works even if your phone isn't a smartphone.
In a nutshell, they log which cell towers are currently within range of your phone, then they plug that data into a special algorithm that "triangulates" your approximate location based upon the signals your phone is transmitting to the closest towers.
Of course if you happen to be in a remote area where there's no cellular signal available at all, your location cannot be tracked by triangulation.
However, most places that are anywhere near a city, town or major highway will have at least some cellular service, and it doesn't take much of a signal for your cellular company to be able to triangulate your location.
2 – Any time your phone connects to a WiFi hotspot that data is logged. And data that's logged is typically available to law enforcement should they request it (hopefully, with a warrant).
That means if you're attending a party and something bad happens while you're there, the police will be able to use the host's WiFi logs to make a list of everyone who was there that had a cell phone with WiFi enabled.
3 – Speaking of the police, they can also set up fake WiFi hotspots that trick all the cell phones in the area to reveal their presence, even if the phone's owner doesn't try to connect to the fake network.
And now I'm going to dispel a popular myth about cell phones…
The police aren't the only folks who can legally get your location data from your cellular provider. In fact, if your phone is turned on, virtually anyone can use an online tracking service to find out where you are at this very moment.
And finally, a bit of good news…
Just having your phone on your person could save your life if you ever find yourself in a situation where you'll die if you aren't found by someone who is looking for you. And that applies even if you have Location Services turned off!
Bottom line: Simply disabling your phone's Location Services will not hide your current location. If you truly want to prevent others from tracking your whereabouts, you'll have to either leave your phone at home or keep it powered off.
---
Click here to ask me a tech question.