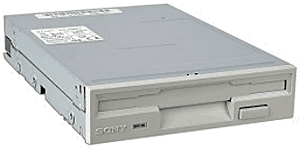 Question from Cynthia T.:  Hi Rick. I have something going on with my computer that's driving me up the wall.
Starting 3 days ago there's a Floppy Disk A: drive showing up in Windows Explorer. I haven't owned a computer with a floppy drive in it in years!
Why is a phantom floppy drive showing up in my drive list? And more importantly, how can I get rid of it? My computer is a Gateway desktop running Windows 7 Pro.
Rick's answer:  Cynthia, I'll answer your second question first since it's the easiest. Follow these steps to remove the phantom floppy drive from your system:
1 – Click the Start orb.
2 – Type the word device into the Search box, then press the Enter key.
3 – Select Device Manager from the list of search results.
4 – Expand the "Disk Drives" section by clicking the little arrow on the left.
5 – Right-click on the Floppy Disk entry and select Uninstall.
That should take care of removing the floppy drive from Windows Explorer. Now I'll deal with your first question.
There are a number of possible reasons why a phantom device might show up on your computer, but the one that I see most often is a malware infection. I suspect that to be the cause of your phantom floppy drive as well.
I suggest updating your anti-virus definition files and running a full scan. If it finds any malware at all, I would strongly recommend that you follow the directions listed in this post to completely remove all the malware from your system.
If any part of my instructions in this post fail to work, please let me know and I'll tell you what to try next. Good luck!
Update from Cynthia:  I was able to get the floppy drive removed from the system by following your instructions. I also took your advice about scanning for malware, and it found (and removed) a bunch of it. Everything seems to be back to normal now. Thanks so much for your help!
---
Do you have a tech question of your own for Rick? Click here and send it in!