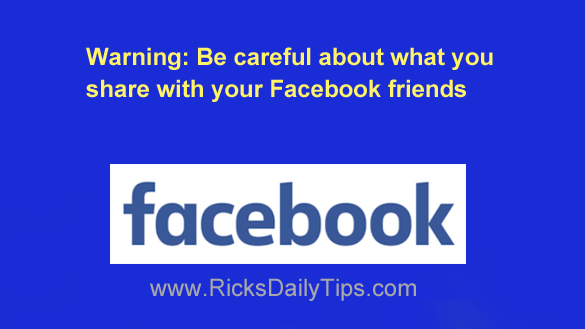 As you probably know, Facebook asks for some pretty sensitive information when someone signs up for an account.
For example, among other things they request our address, phone number and birthdate.
Many folks just go ahead and enter whatever info Facebook asks for without giving it a second thought, and then they make that info viewable by all of their Facebook friends.
Even worse, lots of other folks make their personal info viewable by the general public (i.e. billions of complete strangers)!
That, in my opinion, is a very bad mistake. 
Any information that you make available to the public on Facebook can be searched for and viewed by any of the almost 3 billion worldwide Facebook users. Think about that for a moment.
If your "About" page publicly displays your address, phone number and birthdate, an identity thief needs only to track down your social security number in order to steal your identity and transform your life into one of misery.
And believe me, if they have the info listed above, an experienced crook can easily find your social security number.
Even worse, displaying your physical address, school, church and/or place of employment makes it easy for stalkers and others who might want to harm you to quickly find you.
If you look at my "About" page on Facebook, you'll see that ALL of my sensitive personal information is hidden from view – even to those on my Friends list.
The people who have a legitimate need for my personal info already have it, and anyone else who might need it in the future can ask me for it. I strongly recommend that you adopt the same policy if you haven't already.
Perhaps you're thinking that "hiding" my personal info from my friends is skewing a little too close to the paranoid end of the scale, but is it really? I don't think so. I have a LOT of Facebook friends, but I know only a relatively small percentage of them personally.
While I greatly appreciate each and every person on my Friends list and enjoy interacting with them via our posts, photos and comments, it's always possible that there could be someone out there who would use my personal information for nefarious purposes.
Think of it this way: How many folks do you have on your Friends list? 50? 100? 2,000? More?
Now, consider this… How many of those people do you know well enough to trust them with the key to your house? If the answer isn't "All of them", you probably shouldn't trust them with your sensitive personal information, either.
I recommend keeping as much personal information as possible hidden from your Facebook profile.
If one of your friends has a legitimate need for your address or phone number, they can easily send you a private message and ask for it. Making it available right on your profile page could really come back to haunt you.
And finally, remember this: Just keeping your personal info off of your Profile page isn't enough. I also recommend that you never post your age, date of birth, address or phone number in a Facebook post or status update.
The info in your public posts and status updates can be searched for and viewed by crooks just as easily as the info on your Profile page. And unless you intentionally remove it, it'll stay on there forever. Just sayin'.
---