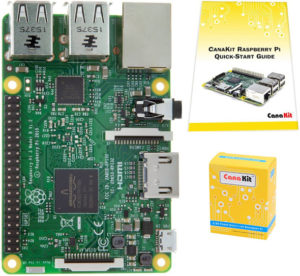 Regular readers of this blog know that I love technology, and I always have.
It all started back in the early 1970's when I began taking old vacuum tube radios and TVs apart to learn how they worked.
By the time that decade drew to a close the tech world had begun to make the move from analog to digital.
Before I knew it I was taking my Radio Shack TRS-80 Model I computer apart and souping it up with modifications of all types. 
Not long after that the original IBM PC changed the world of personal computing forever, and to date I have built well over 100 PC "clones" from parts, and counting.
At $499 that beloved TRS-80 set me back a small fortune in 1979 dollars, but even the prices of technology have changed for the better since then. Case in point: A modern entry-level Windows laptop can now be had for less than half what that ancient TRS-80 cost me back then!
Times certainly have changed, and today's youngsters are growing up in a world that's awash with technology.
Modern smart phones put many times the power of my old TRS-80 into the palms of our hands, and today's home computers are more powerful than the Buick-sized mini-computers of that era. What's more, most youngsters today have immediate access to almost everything our technological world has to offer.
If you have a child that desires to go beyond the apps and games that are so popular today and actually learn about the hardware inside the machines, there's a very affordable smart-phone sized computer kit that makes a great starting point.
The Raspberry Pi is a tiny computer that was literally designed and built to be experimented with and modified by anyone who happens to possess a curious mind. There are literally thousands of ways to modify and program this nifty little machine to do most anything you can think of.
You can buy just the Raspberry Pi circuit board for around $35, but for about twice that amount you can get a really nice kit that includes the circuit board itself plus a number of additional add-on components. And it even comes with a handy "Quick Start" guide!
This kit is called the CanaKit Raspberry Pi 3 Complete Starter Kit (#ad), and it includes all of the following:
Raspberry Pi 3 (RPi3) Model B Quad-Core 1.2 GHz 1 GB RAM Circuit Board
On-board WiFi and Bluetooth Connectivity
32 GB MicroSD Card (Class 10) with NOOBS
USB MicroSD Card Reader
CanaKit 2.5A Micro USB Power Supply with Noise Filter
High Quality Raspberry Pi 3 Case
Premium Quality 6ft HDMI Cable with CEC support
2 Heat Sinks
GPIO Quick Reference Card
CanaKit Full Color Quick-Start Guide
Here's a photo that shows everything that comes in the box: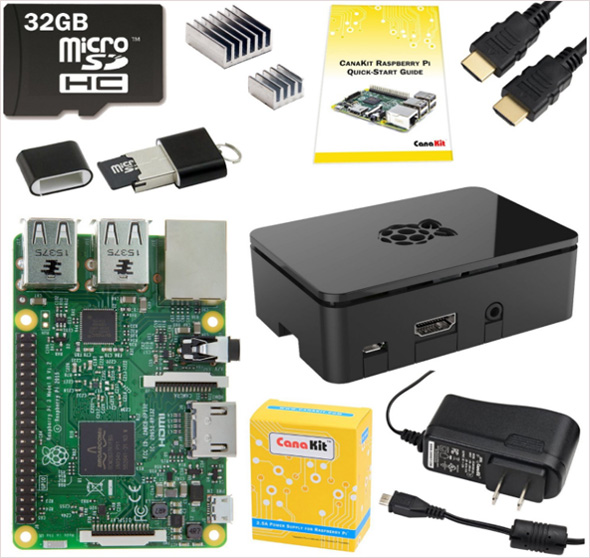 As you can see, this kit contains everything your child will need in order to get started learning all about the basics of computer hardware. But he/she doesn't have to stop there.
There are a number of excellent books that cover the Raspberry Pi in more detail, including hardware and software projects plus valuable computer theory.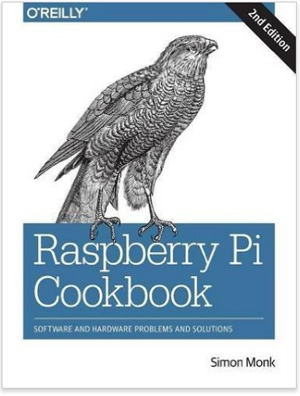 One of my favorites is a great book titled Raspberry Pi Cookbook (#ad) from the folks at O'Reilly.
This excellent tome is chock full of detailed technical information about the massive Raspberry Pi hardware and software ecosystem. It truly is a great vehicle for moving past the basics and mastering the surprising power of the Raspberry Pi.
Together, the CanaKit Raspberry Pi 3 Complete Starter Kit and Raspberry Pi Cookbook comprise what could easily be considered the perfect gift for most any inquisitive child, and you can get them both for about $100!
Click here (#ad) to read more about the CanaKit Raspberry Pi 3 Complete Starter Kit at Amazon.
Click here (#ad) to read more about the Raspberry Pi Cookbook.
Bonus tip #2: Want to make sure you never miss one of my tips? Click here to join my Rick's Tech Tips Facebook Group!
---
Do you have a tech question of your own for Rick? Click here and send it in!
If you found this post useful, would you mind helping me out by sharing it? Just click one of the handy social media sharing buttons below.