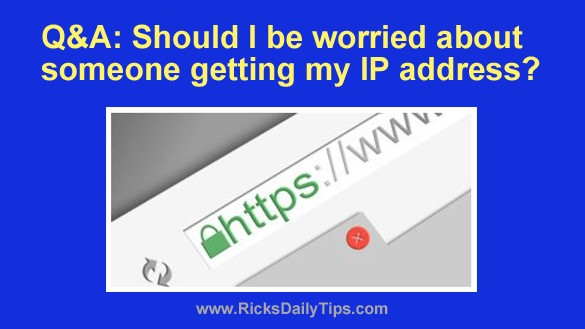 Question from Rhonda:  Rick, I have a question about something that's been bothering me.
My brother was joking around the other day and he said I should be careful because he knows my IP address and he could get me into trouble if I don't behave.
I know he was just joking, but it got me to wondering if someone could cause problems for me if they know my IP address? 
Rick's answer: Rhonda, in my humble opinion, you really don't have to worry about someone using your IP address to cause problems for you.
If you do a search online for "what can someone do with your IP address?" you'll find plenty of pages filled with dire warnings about bad things that could happen to you if someone gets their hands on your IP address.
But here's the thing…
Virtually all of those pages were published by VPN services who have a vested interest in scaring you into subscribing to their service.
Yes, it's definitely possible that some of the dire things they suggest could happen, but the odds of them happening to the average Internet user are pretty close to nil.
Truth be told, IP addresses are actually very easy to track down for those who wish to do so, even if you choose to use a VPN to cover your tracks online.
In actuality, the only people who really need to worry about their IP addresses being discovered by others are criminals since the authorities can almost always track miscreants down by matching their IP addresses with other information that's available to them.
Bottom line: You really have nothing to worry about, Rhonda. In short, IP addresses are relatively easy to determine regardless of how careful you are to hide your tracks online.
The good news is the vast majority of Internet users will never have their IP addresses used against them in some way.
My recommendation is to use your computer as you see fit, and have fun. Just be sure to remain on the straight and narrow to prevent your IP address from getting you into hot water with the authorities (and I'm sure you will).
Now that I've said the above, let me say this…
There really are good reasons for using a VPN to cover your tracks online. All I'm saying here is preventing someone from tracking down your IP address isn't one of them.
Bonus tip: Click here to learn about a super-fast way to delete your Internet browsing history.
---