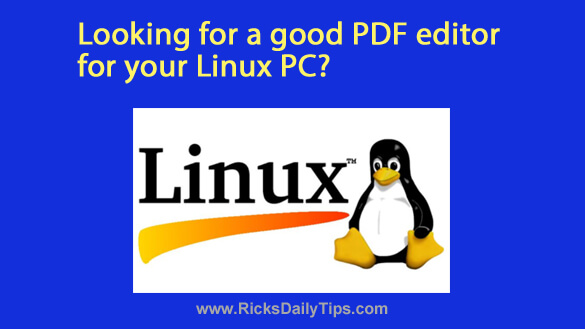 Note: The links in this post are affiliate links.
I'm often asked to recommend a good PDF editor that runs on Linux PCs, and as luck would have it, there are several excellent ones to choose from.
If you're looking for a good PDF editor for your own Linux machine, here's a little secret that you might not know… 
You probably already have one!
Most Linux users also use the awesome LibreOffice suite of office tools, and the LibreOffice Draw app that's included with it does a fine job at editing PDF documents.
Here's what you need to do:
1 – Open LibreOffice.
2 – Click File>Open and select the PDF document you want to edit.
3 – Make your desired edits and then save the new version of the document in PDF format.
Yep, it really is that simple.
While it's true that there are stand-alone PDF editors for Linux that offer more features, I've found LibreOffice to be more than adequate for my needs.
Will LibreOffice suit your needs as well? It's easy to find out – just use it to edit a PDF document and see how it goes!
If you don't already have LibreOffice installed on your computer you can download it from this page. Just be sure to choose the installer that matches your version of Linux and you'll be all set.
Bonus tip: Just getting started with Linux? Check out LINUX: Easy Linux For Beginners.
---