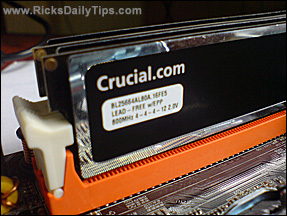 Question from Mandy F.:  I have a HP desktop computer that only came with 2 gigs of RAM.
I read that adding more will make my computer run better so I took the cover off and noticed that it had 2 empty RAM slots with 2 more already filled.
Best Buy had 4GB RAM chips on sale so I bought 2 of them and put them in. But the computer still only shows that it has 2GB of RAM instead of 10GB. What could be wrong? Thanks.
Rick's answer:  Hi Mandy. There are three possible reasons why your new RAM isn't being recognized by your computer:
1 – The RAM sticks you purchased weren't made to work with your computer's motherboard. In my opinion, this is the most likely cause of your problem. You didn't mention the model number of the PC, but since it came with two 1GB sticks installed I'm guessing that the RAM it needs is either DDR or DDR2.
Since you bought 4GB sticks they are most likely DDR3, and if so they are almost certainly incompatible with your computer's motherboard. You can still buy 4GB DDR2 RAM, but I'd bet a dollar against a penny that the sticks you purchased are DDR3.
2 – You bought the correct type of RAM, but you didn't get the sticks seated into the RAM slots properly. This is certainly possible, but I have serious doubts about this being the case here.
3 – Even though they were new when you bought them, one or both of your new RAM sticks are defective. (This is highly unlikely in my opinion.)
Again, possibility number one is by far the most likely reason why your PC won't recognize the new RAM.
If  I were you I'd try returning the RAM you bought to Best Buy and see if they'll give you a refund. I'm not sure they will, but it's certainly worth a try.
Next, I'd visit www.Crucial.com and use their free System Scanner to determine exactly what type of RAM your computer uses. Just follow these steps:
1 – While on the Crucial home page, agree to the terms and conditions by checking the box, then click download the scanner.
2 – Once the System Scanner utility has been downloaded and installed on your PC, run it and make a note of the exact type and specifications for the RAM that it says your computer requires. Also pay attention to the maximum amount of RAM your system can handle. Buying more than that won't do you any good, and it might even keep your computer from booting into Windows.
3 – Either buy RAM that matches the specs indicated directly from Crucial (you'll be able to purchase it right from the scan results page) or buy RAM elsewhere that exactly matches the specs determined by the System Scanner utility.
I hope this helps Mandy. Good luck!
Bonus tip: Get my latest tips in my weekly RicksDailyTips Email Newsletter. Sign up at the bottom of this page!
---
Do you have a tech question of your own for Rick? Click here and send it in!