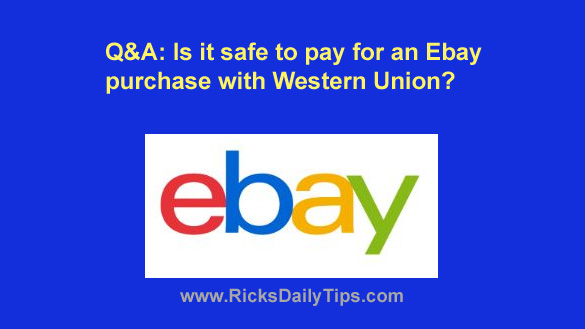 Question from Marie L.:  I agreed to purchase three new iPads on Ebay for my grandchildren.
The seller said he'll give me a 30% discount if I pay with Western Union because he doesn't like using PayPal.
He has pretty good feedback (48 total with 91% positive), but this just seems a little fishy to me because I have always been able to pay with PayPal in the past.
My question is do you think it's safe to pay for the iPads with Western Union or do you think he's trying to scam me? I'm really confused and don't know what I should do.
Rick's answer:  Marie, I would strongly advise against paying for anything at all on Ebay with Western Union.
Instead, I recommend paying with PayPal because you'll be covered by the Buyer Protection Plan in case the transaction goes bad in some way. Paying with Western Union means you'll be on your own if you have to resolve any problems.
I don't mean to disparage Western Union because they provide a great service for many people around the globe, but unfortunately scammers frequently use them to rip off unsuspecting "customers".
Why? Because many scammers live in countries where fraud and corruption are common and Western Union makes it easy for them to receive cash from other parts of the world.
These days PayPal is the most common way to pay for eBay purchases, and I would have a hard time trusting any seller who doesn't want to accept it unless he/she has a very good and verifiable reason for not doing so.
As far as the seller's feedback is concerned, I don't necessarily agree that 91% positive is a good feedback score, especially with just 48 total feedback comments on record.
Personally, I would be very wary about dealing with this seller regardless of the payment methods he's willing to accept.
Bottom line: You didn't mention how much you agreed to pay for the iPads, but if the seller receives your money from Western Union and then fails to deliver them you'll be out the cash with nothing to show for it.
And unfortunately I believe that's likely to happen.
I hope this helps Marie. Good luck!
Update from Marie:  You must have been right about this guy, Rick. This morning I went to see if he had any iPads left and he has apparently been kicked off of Ebay. Thanks for the warning!
Bonus tip: Have an old computer or mobile device that you no longer need or want? Don't junk it, sell it and make a few bucks!
---
Never miss a tip!  Click here to sign up for my free Daily Tech Tips Email Newsletter!