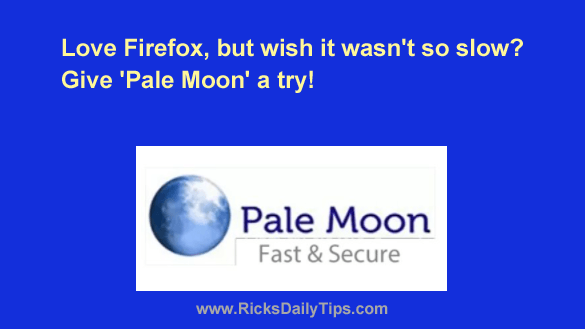 I'll admit it, I love the Firefox web browser.
I really like the look and feel of Firefox's browser window, and I LOVE all the great extensions that let me do things with Firefox that I can't do with any other browser.
But as much as I love Firefox, there's one thing that has kept me using Google Chrome as my primary web browser instead of Firefox: Firefox can be as slow as cold molasses while viewing some websites. But I have good news… 
I recently began using a derivative of Firefox called Pale Moon, and it is nothing less than awesome.
Pale Moon gives me a user experience that's a lot like Firefox, but it runs a LOT faster. And it even lets me use all my favorite Firefox extensions!
I've been using Pale Moon for quite a while now, and I have yet to find anything that I don't like about it.
It's fast, it's compatible with Firefox and its numerous extensions, and it even seems to be more stable. I give it two thumbs up, and I'd give it more if I had more thumbs.
If you'd like to try Pale Moon for yourself, you can download it for free and be using it within a couple of minutes. Here's my quick guide to downloading and installing Pale Moon on your computer:
1 – Visit the Pale Moon website, hover your mouse over the Download link, then hover your mouse over the Pale Moon link until another menu pops up to the right of that link.
Next, select the appropriate download for your computer from that pop-up menu.
If your computer has a 32 bit CPU, choose the first option in the list. If it has a 64 bit CPU, choose the second option.
2 – Once you're on the Download page, scroll down to the large box in the "Download Links" section. Click the first blue Pale Moon link (that's Pale Moon Mirror #1).
3 – Follow the prompts to install Pale Moon onto your system. If you'd rather keep your current browser as your default browser, choose the "Custom Installation" option and uncheck the box beside the option to make Pale Moon the default browser.
That's all there is to it! Give Pale Moon a try, and after you've used it for a while I'd love to hear what you have to say about it – especially if you encounter any issues with it. Good luck!
Bonus tip: This post explains why I recommend that you not allow your web browser(s) store your passwords.
---
Never miss a tip!  Click here to sign up for my free Daily Tech Tips Email Newsletter!