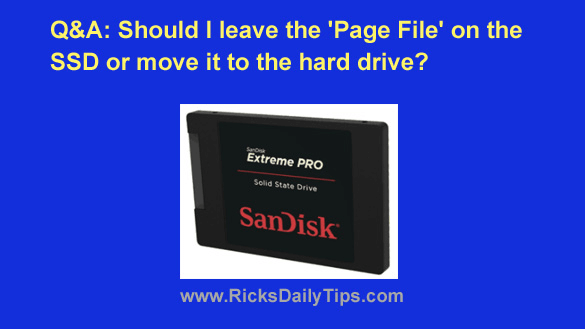 Note: The links in this post are affiliate links.
Question from Braden L.:  Hello Rick. I recently took your advice and added an SSD to my Gateway SX2851-41 desktop computer.
I left the original hard drive installed as a data drive which begs the following question:
Do you recommend leaving the Page File on the SSD or moving it to the hard drive? 
It seems that there are varying opinions on this since an excessive number of writes to an SSD can reduce its useful life.
I'd really love to hear your opinion about it.
Rick's answer:  Braden, this is one of those topics that has been discussed a million times in various computer hardware forums since SSDs were first introduced.
Some "experts" suggest leaving the Page File on the SSD to maximize system performance while others suggest placing it on an installed hard drive (if one is present of course) in order to maximize the life of the SSD.
And in my humble opinion, both schools of thought are valid.
That being said, I believe it makes sense to leave the Page File on the SSD.
While it's true that lots of "writes" to an SSD's Flash Memory cells will indeed reduce its useful lifespan, writes to the Page File are unlikely to reduce it enough to make a big difference.
Now that the prices of low and moderate capacity SSDs have reached commodity levels, in my opinion it makes sense to take advantage of a solid state drive's vastly superior speed in every way possible.
If the drive fails prematurely (which is doubtful) you can always replace it with a new SSD just like we've always replaced failing hard drives.
In your specific case, adding RAM could help extend the life of your SSD should you decide to leave the Page File on it.
The base model Gateway SX2851-41 came loaded with 4GB of RAM, but you could double that to the max of 8GB for just a few well-spent bucks.
In addition to giving your system a moderate speed boost, the extra RAM would also reduce the number of writes to the Page File.
In fact, I just read a recent study that found that increasing system RAM from 4GB to 8GB reduces Page File writes by as much as 30%!
My recommendation: Leave the Page File on the SSD and max out your RAM.
Update from Braden:  Thanks Rick! That's the way I was leaning and I'm glad you think it's a good idea.
Bonus tip: This post explains why replacing a hard drive with an SSD could make the computer run slightly cooler and consume a bit less energy.
---